Motorola Triumph Pre-Orders Begin at Best Buy
Plenty of you have been clamoring about Virgin Mobile's upcoming pre-paid phone, the Motorola Triumph, and it looks like you can now go ahead and place a pre-order at Best Buy if you have $300 sitting around.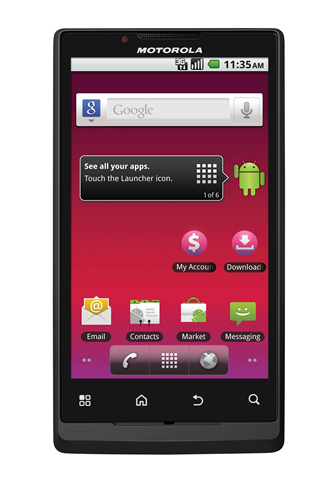 Yes folks, the phone still doesn't have an official release date – we're hearing July 19th – but Best Buy has thrown it up on its website anyway. Estimated arrival time is anywhere between July 19th – yup – and July 26th. We're going to assume that it arrives sooner rather than later.
Many of you had been hoping that the phone would arrive for a price tag around $200-$250 but that doesn't appear to be the case, at least not here. Instead, you're going to have to fork over three Benjamins in order to get a hold of this beaut.
And just to go over the specifications again, the Triumph will have a  4.1″ display (800×480 WVGA), 5MP back-facing camera and VGA front-facing camera, 720p playback and capture, 1400 mAh battery, 512MB of RAM, 2GB of on-board storage, Android 2.2 Froyo, and a form factor that checks in at .4 inches at its thinnest point.
You can head over to Best Buy to pre-order right now if you wish.
Any takers?