Motorola X Phone Outed by Motorola?
The Motorola X Phone, a device that has been rumored to be a joint effort between Motorola and Google, with a launch date potentially set for Google I/O, has made what appears to be an official appearance in an official job posting on LinkedIn.
Read: Top 10 Rumored Smartphones for 2013.
In the past few weeks, rumors have sprouted up about a smartphone that Google and Motorola are supposedly working on, a smartphone that is currently called the X Phone. The device is said to be similar to a Nexus device, but not a Nexus, and instead a Motorola device running vanilla Android but with bloatware on board.
It's also rumored to be coming with a 5-inch Edge-to-Edge display, Android 5.0 Key Lime Pie, a $299 price tag on Verizon, similar pricing to the Nexus 4 on the Google Play Store, and a launch in May at Google I/O. Needless to say, this is a rumored smartphone that many consuemrs have their eye on as a potential buy.
Thus far, Motorola and Google have remained unsurprisingly silent, that is, until a few short hours ago when a job posting for a Motorola position titled "Senior Director Product Management" appeared on LinkedIn. (The posting remains on Motorola's job board but without the X Phone name.)
The job posting, which was discovered by Phandroid and has since been taken down, runs down the responsibilities of "Senior Director Product Management." Thing is, the job posting very blatantly refers to the name, X Phone.
Read: Motorola X Phone Release Date, Specs, News and Rumors.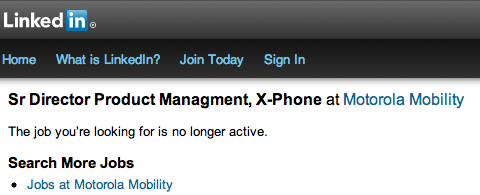 Other details about the phone itself remain missing and nothing is surprising about that. If the phone is indeed real, these companies are likely keeping as much as they can under wraps until its official unveiling.
Of course, a job listing doesn't confirm anything and this could just be some type of practical joke. Or, it could be a serious gaff and a sign of good things to come.
The X Phone has been rumored to have a release date in early July which means that it would likely launch after the likes of the HTC M7 and Samsung Galaxy S4. Still, the prospect of a Motorola designed smartphone with vanilla software and a cheap unlocked price might entice many to wait and see what Google I/O has to offer.