Motorola Xoom 2 On-Contract Pricing Leaked for Verizon
Pricing information may have leaked for the pair of next-generation Xoom 2 tablet for Verizon's 4G LTE network. The tablets, which will bear a closer resemblance to the Droid RAZR than to the original Xoom that they will replace, will be priced between $430 on a two-year contract all the way up to $420 depending on the model and storage configurations.
Unfortunately, though, despite the leaked pricing, we're no where closer to nailing an exact launch date for the pair of slates. Verizon's leaked pricing sheet shows that the tablets will launch anywhere between December 8, 2011 and June 2012, giving the tablets a six-month window to debut.
The leaked pricing was obtained by Droid-life and shows that the smaller Xoom 2 in 8-inch configuration will be available in two capacities. The 16 GB capacity will go for $430 while the 32 GB capacity will go for $530.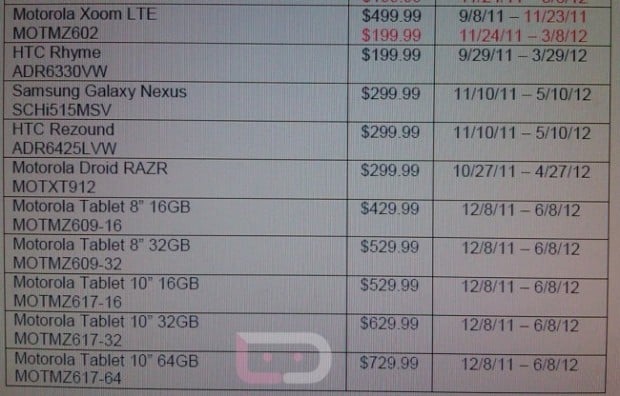 Next up is the larger 10.1-inch edition of the Xoom 2, which will start at $530 for the 16 GB configuration. A 32 GB configuration will retail for $630 and a 64 GB model will be available at $730.
In an effort to differentiate its product line, Motorola is not only bringing additional storage capacities–the original 4G LTE Xoom was only available in 32 GB capacity with the option to add more storage via a micro SDHC card slot–but also make the tablet in two different screen sizes.
The prices mentioned are for the tablet with a contract, unfortunately, so those hoping to avoid the contract will have to shell out more cash to skip the commitment.
Also, it should be noted that the tablets are referred to as "Motorola Tablet" on the leaked price sheet, rather than the Xoom moniker, suggesting that Verizon may abandon the Xoom 2 brand for the rumored Droid Xyboard name.

As an Amazon Associate I earn from qualifying purchases.