Motorola Xoom Super Bowl Ad
Motorola has posted the company's Super Bowl ad for the Android 3.0 Honeycomb Xoom tablet. The ad debuted on Super Bowl XLV this past Sunday.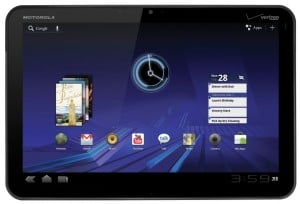 According to Motorola, the Xoom will free people from restrictive platforms, which could be taken as a subtle jab against Apple's iOS-powered iPad and its limitations when it comes to support for Adobe Flash.
Created by Anomaly New York, the ad entitled "Empower the People" is set in an Orwellian, 1984-esque world where technology – and people – are limited by restrictive platforms. Enter Motorola XOOM – the tablet to create a better world – and a new day with optimism, openness, freedom and empowerment.
The Xoom tablet is expected to launch at a price point of $800 on February 24th according to a Best Buy circular ad.
The tablet will initially come as a 3G tablet and users can upgrade to 4G at a later, which would bring support for Verizon Wireless's nascent 4G LTE network in the U.S. According to Verizon, 4G is expected to deliver up to 10 times faster download speeds when compared to 3G; the carrier is promising downloads of between 5-10 Mbps and upload speeds of 2-5 Mbps.

As an Amazon Associate I earn from qualifying purchases.