Motorola's Droid RAZR Maxx Now Top Seller at Verizon
It appears that Apple's iPhone is beginning to lose momentum at Verizon Wireless where Motorola's Droid RAZR Maxx smartphone is now the top selling smartphone as of the June quarter, edging out Apple's iPhone models. Though the Android-powered Droid RAZR Maxx has gained the top seat at Verizon Wireless, the iPhone is still the top selling devices at other U.S. carriers where it is available.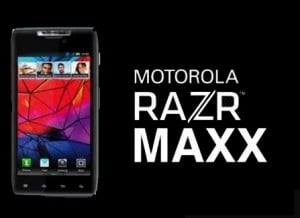 Likely, Verizon's heavy marketing muscle behind 4G LTE and the Droid RAZR campaigns have helped the RAZR Maxx. The device is an evolution of the Droid RAZR, sharing many of the same design and aesthetics as the slimmer RAZR but the Maxx has a much more capacious battery that will last longer coupled with 4G LTE.
According to Barron's, analyst Anil Doradla continues to recommend people buy Apple's stock as Doradla believes that the next iPhone to launch this fall will have 4G LTE network capabilities and will level out the playing field.
Since Apple's iPhone launch in North America, we believe this was the first quarter where the iPhone was not the best‐selling smartphone at a North American mobile operator (where it was available). While Apple continued to maintain its top position at AT&T and Sprint, Motorola's Droid RAZR MAXX was the best‐ selling smartphone at Verizon. Our checks also indicate that at this stage consumers are not pausing in front of the iPhone launch as it is not influencing their purchasing decisions (but we expect it to start impacting over the next couple of months). Despite the "increased competitive landscape from 4G devices (and the iPhone 4S is not 4G)," Doradia is "not worried" as the next iPhone model, a true 4G phone, "will be an important catalyst for the company," he believes.
That device has also been rumored to have a slightly larger display to compete in an era where Android smartphones are getting bigger and bigger screens.
According to that analyst, Samsung holds the third spot at Verizon Wireless with the Android 4.0-powered Galaxy Nexus trailing the Droid RAZR Maxx and the iPhone.