Motorola's Super Thin 7-Inch Android Tablet Caught on Camera?
We know that Motorola is expected to release two new tablets before the end of the year, Motorola Mobility CEO Sanjay Jha confirmed it, but we haven't seen anything substantial leak out . We've heard rumors of a Motorola Xoom 2 and Motorola's CEO also hinted at a 7-inch tablet and the latter of the two might be what you see here courtesy of ThisIsMyNext.
The device you see here appears to be running an unknown version of Android with micro-USB and micro-USB ports with a screen aspect ratio that appears to be 16:9. This means that there is a very good chance that this is Motorola's 7-inch unannounced tablet.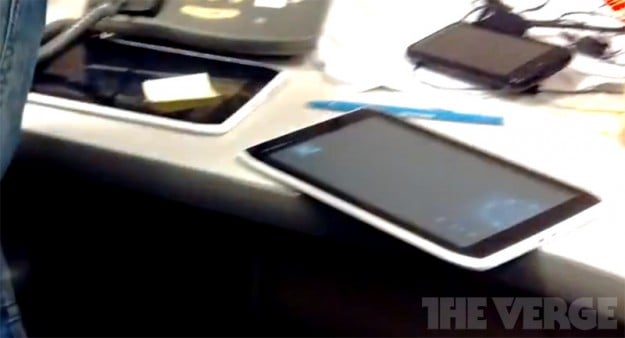 You can also see that the design is extremely thin which makes it a whole lot more intriguing then the original Motorola Xoom's form factor, a tablet that has been on a roller coaster ride all throughout 2011.
It's unknown whether or not this has 4G LTE but we'd assume as much.
As for that mysterious phone in the upper right corner, well, that might be the mysterious Motorola Droid HD aka Motorola Spyder.

As an Amazon Associate I earn from qualifying purchases.