Mountain Lion Taking Us Closer to iOS on the Mac
Apple quietly announced their new OS today calling it Apple OS X 10.8 Mountain Lion. For those who don't keep track, the name alone signals a something important about the update and Apple's philosophy.
Mountain Lion includes minor changes and not a big leap forward. Lion felt like that, but signaled a drastic philosophy shift from Apple – what may call the "iOS-ification" of the computer operating system. Mountain Lion continues that trend, thus the slight change in name. Remember, Leopard was a bigger departure from its predecessor Tiger than Snow Leopard was from Leopard. Lion brought a big change focus when compared to Snow Leopard, namely the shift towards iOS-like features. Now Mountain Lion will be a small shift so you get a minor name change. Or do you?
Notice the slight name change. "Apple Mac OS X 10.7" becomes "Apple OS X 10.8". Do you see the subtle yet telling difference? No "Mac" in the name.
Thanks to the folks at MacRumors for noticing that one. The name change confirms the shift previously stated. I expect that future Apple operating systems to further blur the lines between iOS and OSX. I expect to see the traditional OSX desktop interface replaced by the Launchpad within a year or two. I'm a bit surprised we didn't see that change in this update. I do expect to see them make it an option in the final release.
https://youtu.be/ZJJfsvOoWWQ
The way Apple announced this new version also tipped us off to a change in the way they do things. Over at Daring Fireball, John Gruber shared his story of how he learned about Mountain Lion, in a private one-on-one briefing from Phil Schiller, an Apple VP. Gruber rates a big-name one-on-one because he's an influential Apple-loving celebrity blogger. I'm sure the folks at Engadget and The Verge along with David Pogue of the NY Times and The Wall Street Journal's Walt Mossberg also received the same kind of personalized treatment.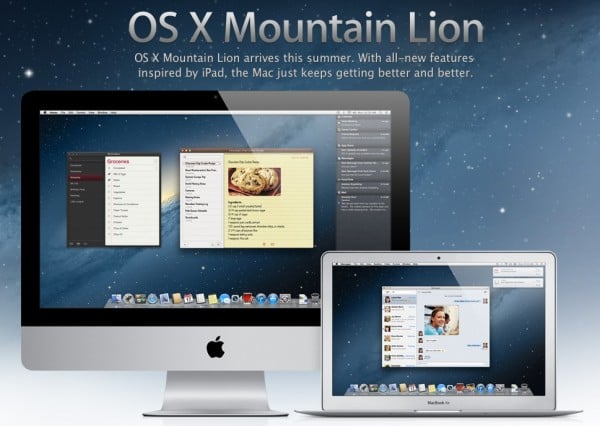 Gruber said of the briefing that it was …:
Not merely to explain what Mountain Lion is — that could just as easily be done with a website or PDF feature guide — but to convey that the Mac and OS X remain both important and the subject of the company's attention.
That seemed a bit self-aggrandizing. Maybe I'm being unfair to Gruber, but when he wrote the above it sounds like he was saying that coming to see him in person means this is a special event. I see it the exact opposite way. Only giving a one-on-one with a select few shows a lack of commitment to the platform. Giving it a special media event would be a signal that Apple believes in the future of OS X as a separate platform. Instead they save the big media events for announcing things like a new strategy for education focused around the iPad and what we assume will be an iPad 3 announcement next month.
What we're witnessing is the slow absorption of the Mac into iOS. All the new stuff in OS X came from or were inspired by iOS, with a few minor exceptions. Even the new Gatekeeper will result in more iOS-ification. It will lead developers eventually into a day when only Apple approved software will install on your Mac. They couldn't take that step with the Mac App Store or users would revolt. Gatekeeper takes another step along that route.
Eventually, only Apple approved apps will work with your Mac. To do otherwise you will have to do something like jailbreaking your Mac. People will do that, of course, but will pay by giving up their warranty like they do now on the iPhone.
I'm not making a value judgment about this course. I'm just predicting that we're headed towards this Apple walled garden already.
Source: Daring Fireball

As an Amazon Associate I earn from qualifying purchases.