Move Over Retina Display, Full HD Huawei P2 to Pack Whopping 489ppi
Apple has fueled our obsession with high pixel density display thanks to its clever marketing of Retina Display, and since then Android manufacturers have been striving to out-Retina Apple in the display department. With the iPhone clocking in at 326ppi, or pixels per inch, the new flagship Huawei Ascend P2 that's been recently leaked in some press photos may be the most pixel-dense display to date clocking in a whopping 489ppi.
The leaked press photos of the Huawei Ascend P2 were initially posted on Unwired View. It's unclear if the Chinese-made smartphone will be coming to markets outside of China, let alone launch in the U.S. If it does come to the U.S., it may be more affordably and competitively priced due to Huawei's attempt to gain market share.
The Ascend P2 from Huawei is rumored to have a full HD 1080p resolution screen on a smaller 4.5-inch panel. This means that compared to 5-inch phones like the HTC Droid DNA and the Sony Xperia Z, the Huawei Ascend P2 would pack more pixels into its smaller displays by maintaining the same full HD resolution as its competitors. HTC is also expected to release a rumored smartphone with a more pixel-dense display than the current HTC Droid DNA. That phone is expected to arrive sometime next month in the form of the rumored HTC M7, a 4.7-inch smartphone with a full HD resolution with a ppi count that sits between the HTC Droid DNA and that of the Huawei Ascend P2.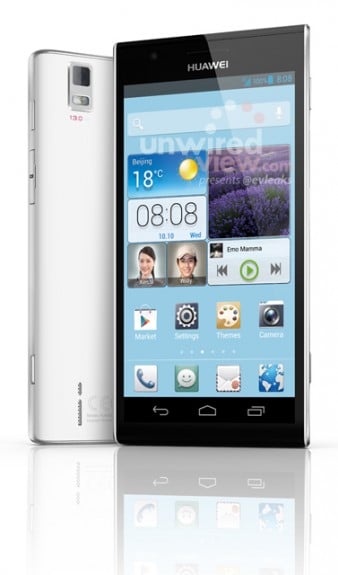 Other specs for the Ascend P2 include a capacious 3,000 mAh battery that should hopefully give it as respectable a battery life as Motorola's Droid RAZR Maxx HD. The phone is expected to launch with a quad-core K3V2 processor clocked at 1.8 GHz, 2 GB RAM, and a 13-megapixel backside illuminated sensor.
It's unclear how much extra value the ultra-high 489ppi display will deliver. Many claim that at 300ppi, the human eye would not be able to perceive individual pixels. That said, even the 440ppi of the 5-inch 1080p HD display of the HTC Droid DNA appear to be slightly more crisp in rendering small text and the display is very vibrant. At some point, however, the race to a pixel-dense display may be nothing more than just numbers used for marketing as beyond a certain level, anything in excess is imperceptible to the human eye.
Other companies are also working to improve display technologies. Samsung is working to cram more pixels into a display by changing the pixel shape from a traditional square to a diamond or hexagonal shape, according to a report.
The Huawei Ascend P2 is expected to be announced next month at the Mobile World Congress trade show.