iPhone Moving Apps: Essentials & Some Advice
Moving is the mother of all household chores. You could have had months to plan and weeks to schedule out everything and something will go wrong. You could have thrown together a move in days with all the finest details covered. Still, you will find yourself wishing you'd have planned a bit more. The ironic thing is that iPhone moving apps can solve most these organization problems.
Using iPhone apps, street smarts and some organization skills, any user can pull off a move successfully. The iPhone apps themselves can handle everything from tracking your furniture purchases to acting as an early warning system if you spent a little more than you should have at Ikea over the weekend. Even things that you don't expect to be great iPhone moving apps.
iPhone Moving Apps: Planning Your Move
The journey of a move starts with planning. You've already found your place and you're looking to figure out some logistics. First, how are you going to get the furniture that you won't be throwing out or giving away from your current place to your new one?
Yelp
If you've decided to go ahead and move things yourself, you're all good. For those with too many things to move themselves and no friends that they want to burden, there's Yelp. In addition to providing millions of restaurant reviews, Yelp has reviews for just about any type of business. This includes, moving companies. Download the app and search for Moving companies to find one that fulfils your needs. Keep an eye out for the moving company's rating and red flags in any of the reviews from other city dwellers that have used that them before.
In addition to giving you basic information about the business, Yelp can also help you get in contact with them and get the process started. For example, instead of offering iPhone moving apps themselves, lots of moving companies offer a breakdown of their rates and the option to request a quote directly from Yelp.
[ Download Yelp from the iTunes Store for Free ]
OneNote
You'll need some place to store the quotes that you get from Yelp. It's a good idea to start saving all the different pieces of furniture you're looking at too. In fact, if you really want to go crazy with keeping your moving fiasco under control with the iPhone, storing all the paperwork and documents associated with your move with one of two iPhone apps is a must too.
For this, I recommend Microsoft's completely free OneNote application. Besides taking handwritten notes, all versions allow you to turn paper documents into digital documents with your iPhone's camera. Everything that you put into a OneNote syncs quietly using OneDrive too. Evernote is a good OneNote alternative for movers too. At the surface, neither are dedicated iPhone moving apps, but both will help immensely before and during your transition.
[ Download OneNote from the iTunes Store for Free ]
Mint
As soon as you decide to move, you start seeing fees and charges you've never heard of. There are deposits, application fees and down payments to consider. Surely, you'll want to purchase some new things for your new place. Mint, is a free budgeting app and website that's been around for years. You connect it to your accounts to keep track of what's going on with your expenses in real-time.
Mint also provides free credit monitoring, which you're going to need if maybe you haven't been able to find a place that'll accept your current credit score, but haven't given up on moving in the not-too-distant future.
You can create a specific moving budget and ensure that whatever you spend is trackable and accounted for.
[ Download Mint free from the iTunes Store ]
Pinterest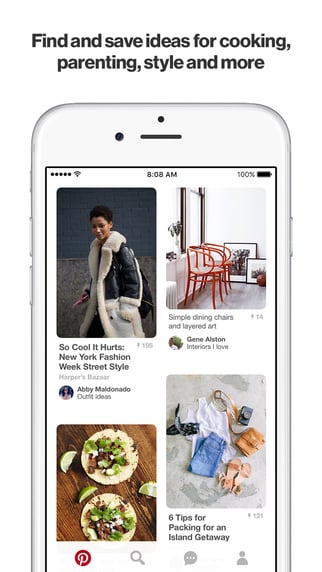 Next comes style. We can't all dream up great decorating ideas and be creative out of nowhere. That's where Pinterest comes in. The social networking app and website lets you track design of all kinds – including home décor. You can search by particular styles or look ideas that others have compiled over time. Of all the iPhone moving apps here, this is the go to moving app for design and style.
[ Download Pinterest free from the iTunes Store ]
iPhone Moving Apps: Getting Everything You Need for Your Move
Now that you've collected all the information you need about your new place and all the furniture that you have your eye on, it's time to start buying things up. In an ideal situation, all of this stuff would be ordered already so that you don't have to spend the first days living in your new place missing essentials.
Prime Now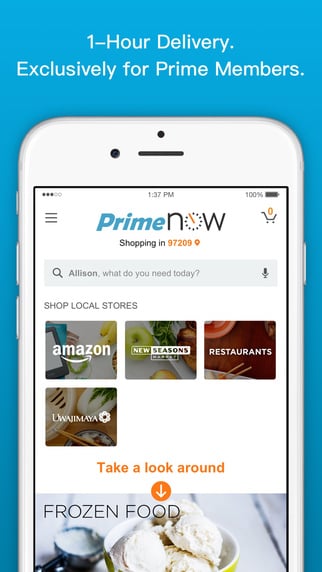 There are few things in life more satisfying than Amazon's Prime Now and standard Amazon iPhone apps. Amazon offers a terrific buying experience for anything that you need in your new place and don't want to pick up in store and drag it home in your car or a rental. Prime Now, is terrific for those small things that you didn't think you'd needed before your move. We're talking HDMI cables, towels and toiletries. Maybe you want to add an Amazon Fire TV to your new living room setup?
Amazon Prime Now requires that you have an Amazon Prime account and live in zip code where it's offered.
[ Download Amazon Prime Now free from the iTunes Store ]
[ Download Amazon free from the iTunes Store ]
Ikea
For stylish, low-cost furniture that doesn't involve you creating a credit account or going to Wal-Mart, there's only one place: Ikea. Problem is, Ikea isn't known for having a big store footprint. The Ikea app for iPhone does dual duties. If you live near a store, you can browse the selection at home and plan out your shopping trip. If you're smart about it, you won't get stuck wondering around the store for hours on end.
For those that don't have a store near them, there's always the option to order what you need. Ikea delivers around the world and the app includes the dimensions and real-world pictures of everything that the stores sell.
[ Download the Ikea App free from the iTunes Store ]
Sortly
OneNote is great for documents and notes, but it's not really great at accelerating your inventory work flow. You'll want to take an inventory of everything before you hand it off to the movers or pack your van yourself. Sortly, one of the many inventory focused iPhone apps available, handles this job pretty well.
Besides a picture of each box and item, you can include description. If you opted to use Evernote instead of OneNote for keeping track of your moving details, it syncs directly with the service.  Label the boxes so that you know where each of them goes without wasting time opening them.
[ Download Sortly free from the iTunes Store ]
iPhone Moving Apps: Executing Your Move
Finally, moving day has arrived. You'll want to make sure you have that inventory list in your phone so that everything goes as easy as possible. Also, charge up your iPhone.
My U-Haul
If you decided to not hire a moving company, you'll want a U-Haul truck. Besides providing an easy way to make appointments, My U-Haul gives you more information about the different modes of transportation the company offers and how much your total cost will be before you go to pick up your truck, van or trailer.
[ Download My U-Haul free from the iTunes Store ]
Apple Music or Spotify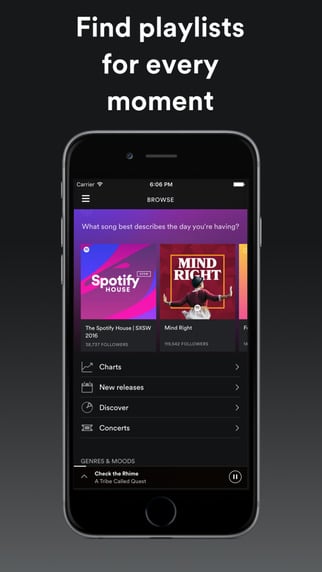 Friends are coming over to help you put everything away or are you planning to do it yourself? In either case, you're going to spend a lot of time today on your feet. You've got to make it enjoyable.
It's the perfect time for a decent music app. Apple Music is already on your phone and listening to Beats 1 and your MP3 collection is free. Spotify is free to stream on mobile devices and offers a terrific line-up of human-made playlists for every genre. Find a speaker and crank some music to get you through the long day of shifting boxes, assembling furniture and more.
[ Download Spotify free from the iTunes Store ]
Good luck with your move and these iPhone moving apps!