Moving from Android to Windows Phone 7 Part 1 : Getting Ready for the plunge!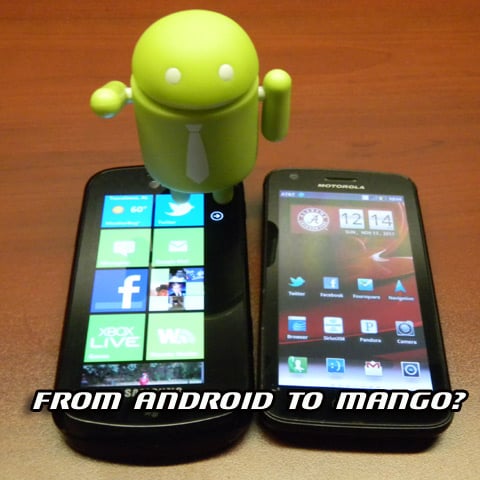 Over the next couple of weeks, I am going to share my adventures of transitioning from being an Android user to a Windows Phone user.
This is going to be somewhat interesting considering that I was a Windows Mobile fan boy for so long. When Windows Mobile 6.5 dropped, I was so underwhelmed with how little progress was made over such a long time between updates that I finally took a break from Windows Mobile. I purchased the iPhone 3GS and it became my daily driver until Windows Phone 7 was released last fall. I still checked out new Windows Mobile 6.5 and Android phones that I was evaluating, but I always returned to the iPhone 3GS.
Last fall, I was very excited about Windows Phone 7. I was getting some awesome buzz from the inside (I was in my 6th year as a Windows Mobile MVP) and eventually was flown to Redmond to participate in the Windows Phone 7 Ambassador program which gave me an early look at the OS. We weren't afforded a ton of time with an actual device, but I was hooked. I was totally ready for Microsoft to get back into the game in a big way. When Windows Phone 7 went live, I got the HTC HD7 and the Samsung Focus. After a week or two, I realized that Windows Phone 7 wasn't ready to be my daily driver. I ended up purchasing the iPhone 4 to replace the 3GS as my main. Not too long after that, the Motorola Atrix hit and I bought one. I ended up setting the iPhone 4 down and have been using the Atrix every day since. It's time for a change now.
I am supposed to have a Windows Phone 7 device on the way but I am not sure if it's going to be the HTC Titan or the HTC HD7S. When this arrives, part 2 of this series will start. I will take you from unboxing all the way to when I decided if Windows Phone 7 is ready for my love again. Mango brings many improvements to Windows Phone 7, so I hope we can get along again. I miss Microsoft on my mobile!
Part 1 starts today with my weekend project. I pulled out my old Samsung Focus and installed Windows Phone 7.5 aka Mango. This phone can't be used as a phone though, I ruined it 9-10 months ago when I damaged the simm slot, rendering it unable to read a simm card. The update required me to reinstall the Zune software. An hour later, the update was complete and my Samsung Focus was running Mango!
I haven't used Windows Phone 7 for over 9 months and I haven't kept current with its progress so I am in for a little bit of a learning curve. The app selection has to have gotten better. Cut and paste has to be in there now? Yes, it is, but it's not perfect. I spent the morning downloading apps and comparing what I use my Android Phone each day for. What apps will I lose. What won't I be able to do if I slap my simm into a Windows Phone device for a couple of weeks.
So far, I am nervous about several items I discovered today.
Google Ecosystem – The is no doubt that Android handles Gmail and other Google services much better than any other OS. I mean, it's Google's OS right? Ever since I left Microsoft Exchange Servers behind, I have fallen in love with Gmail. Sure, Gmail works on the iPhone and Windows Phone and somewhat well, but the experience is unparalleled on an Android phone.
Pandora – I guess, as Eric from HTC put it, I am behind the times. He says Slacker is the way to go anyhow. Well, I love Pandora and I will definitely miss it. What might make it easier are other services that are available to Windows Phone owners like Spotify and Slacker. In addition, Zune Pass is an awesome solution. Why stream when I can just download all I can eat and make my own playlists.
Free Navigation – Google Maps Navigation is hard to beat, especially when it's completely free! At this point, I am not sure what is available for Windows Phone 7. I will try to replace Google Maps Navigation with something once I get started, but I can guarantee, I am not going to be purchasing anything when I am trying to replace a free service.
SiriusXM – There is no "Official" app for that with Windows Phone 7, but I have been told that there are a couple 3rd party apps that suffice. I will be checking those out as well.
Social Media – I really like Android and iPhone versions of the "Official" Twitter clients, but I really don't like Windows Phone 7's version. Facebook is ok. Other apps like Yammer and Foursquare are fine on WP7.
Fantasy Football – ESPN and NFL.com have apps to manage your fantasy football teams available for Android and iOS, but currently there is no version for Windows Phone 7. I am obsessed with Fantasy Football and this is going to be a bummer. I am able to hop on a PC or Laptop often enough to where it won't kill me, but still… I want my FF on the go! There might be some 3rd party programs that I can give a try, but I have to wait until I get a new Windows Phone device to give them a try.
That's all I could come up with today, but I am sure other issues will pop once I get the new phone. I will deal with them as they pop up.
Stay tuned for more! I did a similar diary style series a few years ago when I tried the Palm OS for a couple weeks after using Windows Mobile and PocketPC for so long and it was fun for me and the readers!