Mozilla Teases Chromecast-Like Tab Mirroring in Firefox
Mozilla employee Mark Finkle has teased us with a photo of what he says is "tab mirroring from Firefox to Roku" using a Nexus 4. The photo pictures the Nexus 4 with the Firefox web browser open, and the television in the background is displaying the same image that's on the smartphone. This hints to the fact that Mozilla is working on some kind of Chromecast competitor.
Of course, little details were given, as we're not sure how Mozilla is making it all work. It's possible that the mirroring is taking place over the web, like the Chromecast does, or it might based on WiFi Direct or a device-to-device protocol that's similar, although we don't really know for sure.
Then again, we're also not really sure if this is Mozilla's answer to the Chromecast, or if it's just something that the company is brewing up as its own thought-out feature. Either way, many companies are eyeing the Chromecast as a device that could easily be overtaken by something better, especially considering that the Chromecast released with extreme limitations as far as functionality.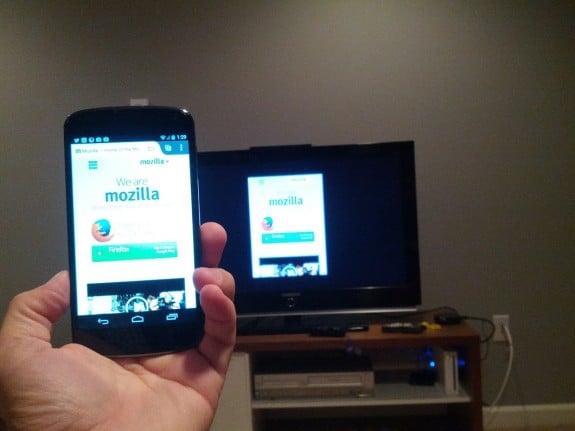 Given that this tease from Mozilla has the tab mirroring feature working in Android and on a Roku, it seems as if Microsoft is working on a Chromecast competitor that doesn't need proprietary hardware in the first place, meaning that if you have already have a smartphone and a media streaming TV box, then you're good to go for Mozilla's mirroring technology.
Although, we're not really sure how that will work when Mozilla eventually releases such a feature. From the picture provided, it seems as if the protocol is device-to-device (or maybe relies on the home wireless network), given that the image on the TV is an exact copy of what the user sees on the smartphone. However, it's possible that Mozilla could be doing what Chromecast is doing, and beam content to the TV while the smartphone acts a remote control of sorts.
We'll ultimately have to wait and see, however, so don't get too excited just yet, as this is merely just a tease of a rather insignificant feature of a bigger product that may or may not eventually arrive to the public. However, that doesn't mean we're not keeping our fingers crossed for a Chromecast competitor, because a little competition always gets companies to speed up innovation a bit.