MSI announces Android and Windows tablets for CES 2011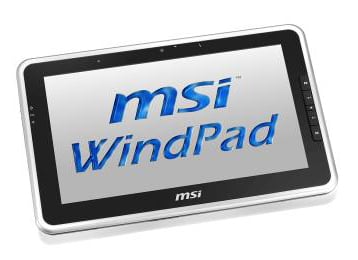 Throwing down the gauntlet, MSI has announced a new line of notebooks that will "steal the spotlight" at CES 2011. With somewhat less bravado, they've also announced the debut of their next generation of WindPad tablets, one running Android, the other Windows.
MSI WindPad 100A tablet: This lean, mean machine features the new Google Android OS, a 10.1-inch multi-touch control screen, the ARM processor, a digital compass, a GPS locator, a G-Sensor gravity detecting device, an ALS light sensor, and Wi-Fi. You also have the option of purchasing 3G. It tips the scales at a mere 800grams, is less than 14mm at its thinnest point, and can run for eight to ten hours on battery power.

MSI WindPad 100W tablet: This tablet computer comes with Microsoft's Windows 7 Home Premium operating system and a 10.1-inch screen that supports multi-touch control. In addition, it is equipped with the Intel mobile processor and a 32GB solid state hard drive as well as a G-Sensor gravity detecting device, an ALS light sensor, and Wi-Fi. Worth mentioning, this stylish tablet also comes with MSI's own Wind Touch software, so you can quickly find any application using the software's "work" and "entertainment" functions with just one click.
Okay, so the "new" Google Android OS is a little vague as is "the ARM processor". However, NetbookNews has confirmed Android 3.0 and Nvidia Tegra 2 will arrive in April-May. Hopefully that's the product's initial ship date or else it puts a damper on early adoption.
The Windows WindPad, noted with the "W" suffix, is equally nebulous, but the folks at NetbookNews actually got their hands on one and have shared more detailed specs, including word that the Intel processor won't be upgraded to Oak Trail until March (again, hope that's the initial ship date). Check them out for details and a short video hands-on.
Disappointing that the 100W lacks GPS and digital compass. These are "chicken or the egg" features for Windows tablets that hardware makers skip since there's no software support and software vendors ignore because they're never in the hardware. Someone needs to take the first step here, and I think it's the hardware guys.
Via EuroDroid and Liliputing
Side note to MSI: "tips the scales" is an idiom that usually refers to something being heavy, not light. Using it to describe the 100A gives the opposite impression of the desired message.

As an Amazon Associate I earn from qualifying purchases.