MSI WindPad Windows and Android Tablet Hands-On (Video)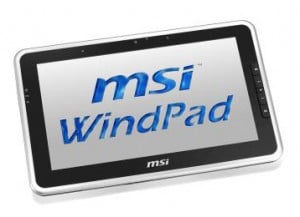 As Sumocat had written about the MSI WindPad tablets that had debuted at the Consumer Electronics Show in Las Vegas last week, we were able to get a hands-on demo of the two models. According to MSI, the Windows version will be built for resellers and may be customized for them–like what shortcut buttons appear on the side of the slate–while the Android version will be targeted to consumers at launch. From what we gathered from our conversation with MSI representatives at CES, it sounds like the Windows version will be more geared towards enterprise and vertical markets so it may be difficult to obtain one through traditional retail channels.
WindPad Windows Tablet

WindPad Android Tablet

The Android version will ship first, in Q2, with a Tegra processor while the Windows version will ship later with an Intel Atom CPU.

This article may contain affiliate links. Click here for more details.