My Favorite Part About the Droid RAZR: Its Charger
Our own Ms. Bradford will be giving the Droid RAZR from Motorola a detailed spin, so check back on GottaBeMobile.com for a full review soon. In the meantime, however, I want to share one of my favorite features about the hotly anticipated new Motorola and Verizon Wireless flagship, and it's not what you expect. There are already quite a few review that focuses on the device's design and form factor, its pre-bundled apps and the new Motorola user interface, and the hot speeds of 4G LTE but few reviews have acknowledged Motorola's ingenious thinking. That ingenuity doesn't really do with the phone itself, but really is a nice touch that Motorola added, and it has to do with the phone's charger. Roughly the same size as Apple's iPhone charger in the same square-ish plug, the Droid RAZR's charger can accommodate two USB plugs. That's right, occupying just one plug on my power strip, can now charge up to two devices.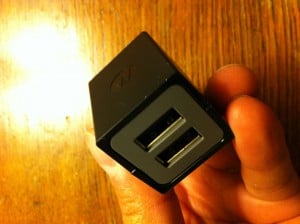 While that information may sound like just a trivial fact, gadget fans will be happy as real estate could be very limited on a power strip with a plethora of gadgets occupying a number of power ports for charging. From smartphones to tablets, e-readers to netbooks, notebooks to Bluetooth headsets, my power strip is already overwhelmed by the number of, and variety of, devices that it must accommodate and juice up. With Motorola's space-saving dual USB charger that's compact, I am happy that I could save a charging port for another tablet.
The hard part now is what I will do with that freed up space. Of course, for that task, I can always turn my attention to one of GottaBeMobile's gift guides for the holiday season for a new tech addiction. Oh, the woes of being a gadget junkie.

As an Amazon Associate I earn from qualifying purchases.