N-Trig Says It is Readying DuoSense Screens For Android Tablets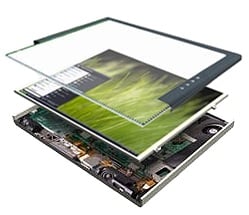 Ina Fried at D: All Things Digital is reporting that N-Trig is hoping to woo Android Tablet developers to the world of pen and touch. Featuring N-Trig's DuoSense technology that allows both pen and touch, NTrig is making the rounds and hoping that Tablet makers see that Pen functionality might actually help them stand out in an increasingly (or soon to be) crowded field.
Of course that adds price to the Tablet and I'm sure some complexity to the software and hardware, so I wouldn't hold my breath. I'd also be leery of N-Trig's history with Tablet PCs. NTrig has its fans but also has its detractors. That said, Fried says that we'll see at least one Tablet using this technology in the first half of the year.
Fried echoes N-Trig's VP Gary Baum pointing out that Apps will be a key and that there is a paucity of them at the moment. Well, we all know that chicken and egg scenario. Intriguingly though on the iPad, which does not feature any sort of direct pen support, developers continue to find a way to provide a decent Inking experience beyond what the iPad itself offers in such Apps as Penultimate, Noteshelf, and PhatPad. At the moment this continued development on the iOS side is happening under the radar. I imagine that the same would be true in the Android world, especially if the hardware would offer accommodation. Pen computing is just not viewed as popular these days.
We'll have to keep our eye open for this as Android continues to develop. I know that many of our readers see pen input as not only a benefit but as must.

As an Amazon Associate I earn from qualifying purchases.