Name Your Own Price for Osmos, Anomaly: Warzone Earth & Edge for Android + Computer
If you love to game on your Android phone and on your computer, The Humble Bundle is a cool new offer you need to check out.
The Humble Bundle includes Anomaly: Warzone Earth, Osmos, and EDGE for Android, but also includes versions for Mac, Windows and Linux.
Best of all, the bundle is available as a name your own price sale, letting you choose the price you pay. You even get to choose who gets the money — Charities like Child's Play and EFF, the game developers or The Humble Bundle.
If you want, you could pay next to nothing, but given the $60 value for all of the versions included and the noble cause hopefully you'll pony up a little bit more.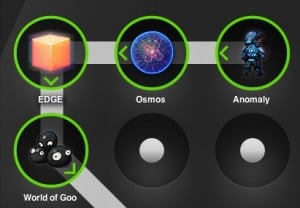 If you need an incentive to pay more, if you beat the average price paid, you also get World of Goo thrown in. Right now the average price is around $5.94, so even that's not out of reach.
I'm a huge fan of Anomaly: Warzone Earth and I was about to buy Osmos, so this deal is very tempting, especially because you get the desktop apps as well.
You also get the soundtracks to the games, so if you want to jam out to the music you play to while you drive to work, you can.
You can test out most of the apps before you buy the bundle.
The deal is live for another 13 days, so if you want to grab a great deal on games for Android and you computer, check this out and support some great charities while you're at it.