NaNoWriMo: Are Tablets Good For Writers?
A few weeks ago author N. K. Jemisin ([amazon_link id="0316043958″ target="_blank" container="" container_class="" ]The Broken Kingdoms[/amazon_link]) asked me to help her find an office app for iPad or Android tablets that would allow her to accept and reject Word's track changes and view comments. We found a partial solution in SoftMaker Office, but it still has drawbacks and isn't available for the public yet. Otherwise, there's not much else out there.
"I don't understand," N. K. said, frustrated. "I know all of these writers with iPads and they say it's so useful for them. But it can't do this one thing I really need."
Unfortunately that's the sad truth about tablets: they're not as useful as they could or should be when you need something beyond basic emailing or web surfing. This state of affairs isn't completely the fault of the tablets themselves, but the apps that run on them.
That leads to today's NaNoWriMo tech topic: are tablets useful for writers?
Writers ask me this a lot and I usually say that it depends on what you want to do. The ultimate bottom line is that a tablet can't do anything more or better than a netbook, and those tend to cost less. However, tablets can be useful little machines for novel writers if you also want or need them for other features.
As far as a basic writing tool, I have used tablets to get in wordcount. Just as with smartphones, there are apps that can help. Here buying a mobile office suite is useful because you have more screen space and can see at least a full page at a time.
Documents To Go is my preferred app since it will give you a word count, unlike QuickOffice. Springpad is also available for tablets. If you're the type who likes to make handwritten notes as you write, check out the Writepad Stylus app for Android and Notes Plus for iPad. You'll need a stylus, though. I'll talk more about that in a bit.
However, if you attempt to go beyond basic writing with a tablet you'll run into trouble.
Say you want to start editing your manuscript. Simple things like selecting text or copy/pasting take way more effort and involve more clicks than a normal laptop. This isn't such a big deal if you do it once or twice a day, but grows frustrating very fast if you have to do it often.
Large files with thousands of words can choke a tablet or app just enough to slow you up and interrupt your flow. And if you switch between working on a document on the tablet and a computer, be prepared for some formatting issues.
When I'm not just writing, I often switch between my document and the web when I'm doing quick research or looking up words. Going back and forth on the iPad isn't a quick process. On Android it's done with a couple of taps, but websites don't always finish loading if you put them in the background. Some apps just shut down if you don't return to them fast enough, which might cause you to lose work.
And then there's the small matter of needing to buy a keyboard for your tablet. The on-screen one is fine for writing a few lines, but you're not going to pump out 1700 words a day on it comfortably (or quickly). That's an extra cost on top of the $500 you've probably already spent.
Plus, by the time you've packed the tablet and the keyboard, you've probably gotten up to a netbook's weight while having spent hundreds more for less functionality. That's not winning.
I don't want you to think that tablets are terrible in general. They aren't. And if they fulfill other needs in your life, go ahead and get one. Just don't get one specifically for writing. Your money is better spent elsewhere.
If you are in the market for a tablet, here are the ones I suggest for maximum writerly usefulness as well as some good accessories:
ASUS Eee Pad Transformer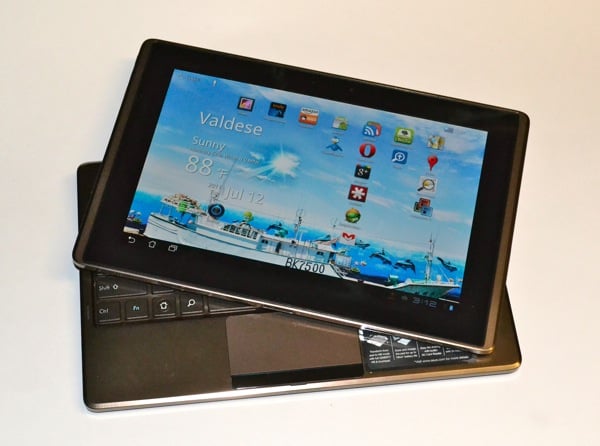 There's a new version of this tablet coming out soon called the Transformer Prime, so you will probably be able to find the first generation for less than the $399 asking price soon. I suggest this one to writers because there's a $150 keyboard dock that's made specifically to go with it. The tablet fits into a notch on the dock and transforms the tablet into a netbook-like device, complete with a hinge that opens and closes like a laptop.
The dock provides some extra ports as well, which is always useful for transferring files and such. Because you get a hardware connection between the tablet and keyboard, very fast typists won't experience the lag that sometimes comes with a Bluetooth keyboard connection.
Read Why Kevin Loves The Eee Pad Transformer
Lenovo ThinkPad Tablet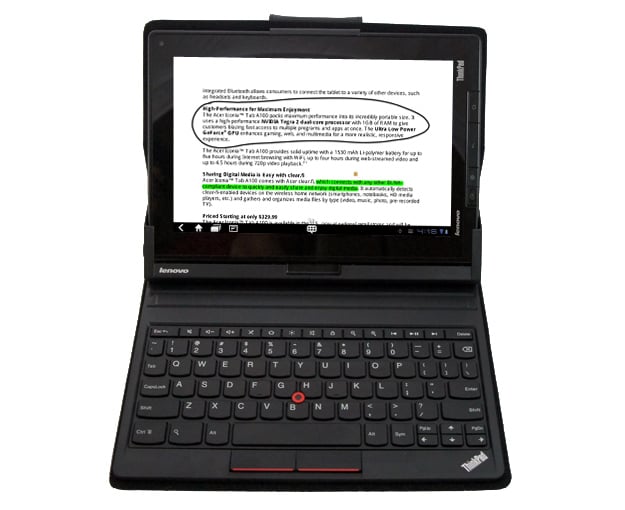 This $499 tablet also has an optional keyboard designed for it, plus you can buy a stylus specially designed to work with the screen. These accessories cost extra, of course, so in the end you're looking at a package that will run you close to $700.
Aside from the price, I'm a big fan of the ThinkPad because it includes the paid version of Documents To Go and a note-taking app called MyScript Notes Mobile. It will not only allow you to create pages and pages of handwritten notes, but it can also do handwriting recognition. Check out my review for details.
Since this tablet is made for business types it has lots of ports and includes useful apps and not just crapware. Plus, the keyboard is classic ThinkPad, so it's very comfortable to type on (and hardware connected).
Read My Review of the ThinkPad Tablet
Samsung Galaxy Tab 8.9 or 10.1
Samsung's tablets are probably among the most popular Android slates on the market, which means there are a lot of accessories made for it, including keyboard docks. Samsung makes a hardware dock that's meant to live on your desk at home, though it is portable (just not conveniently so). There's also a combo Bluetooth keyboard and case that's pretty sweet.
The Galaxy Tab is very slim and light, and the 8.9-inch version splits the difference between being portable and still having a big enough screen for both writing and media viewing.
Read My Review of the Galaxy Tab 8.9
Logitech Tablet Keyboard for Android or iPad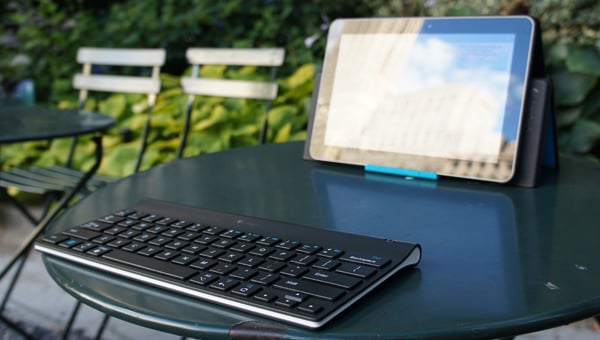 Logitech makes a Bluetooth keyboard with a combo carrying case/tablet stand that I like a lot. The keyboard itself has normal-sized keys, so you won't have to adjust your typing style. The keys themselves are flat, nit dipped in the middle, and have decent tactile feedback and travel.
Be sure to get the version made for your device, as there are some differences in the keys along the top.
Read My Review of the Tablet Keyboard
ZaggKeys Solo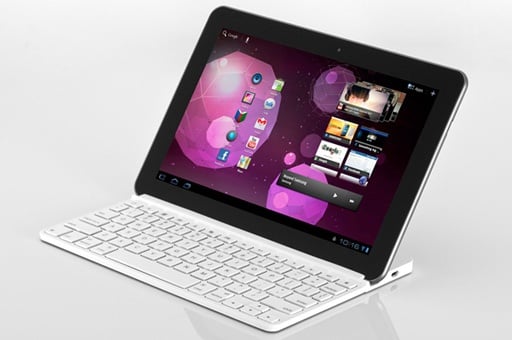 ZaggMate makes several good Bluetooth keyboards for iPad and the Galaxy Tab, but the ZaggKeys Solo is my favorite because it works with any tablet and also with smartphones. It's also pretty small and light, so it won't add too much weight to your bag, and the keys have a nice feel to them.
Capacitive Stylus

A stylus isn't required to use most tablets worth your time, but they can be useful, especially if you have fingernails. As I said above, you like to switch between hand writing notes and typing, all you need is a stylus and the right app and you're good to go.
Almost all of these are made in the same way with a round, rubber tip at one end. So just find an inexpensive one online or at your local electronics store. The one above is sold by Samsung.
Those of you writers out there who have tablets and use them, tell us how that works out for you. What tablet do you have? What apps and accessories do you use?

As an Amazon Associate I earn from qualifying purchases.