NaNoWriMo: Best Free Android and iPhone Apps For Writers
The first week of NaNoWriMo is at an end and hopefully you've reached your word count goals every day (or caught up by now). If you're attending any of the NYC-based write-ins this week, keep an eye out for me!
Riffing off my post from earlier this week on good smartphones for writers, today I have some suggestions for good free Android and iPhone apps.
These will help you stay productive, keep organized, and stave off procrastination. This coming week we'll talk tablets and writers.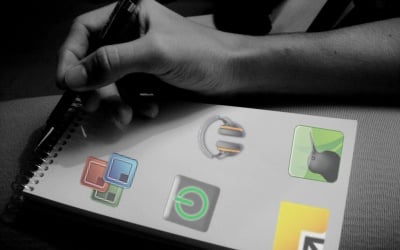 Springpad (Android, iOS) — While most people appear enamored with Evernote, I'm not a fan of that service's restrictions. Plus, I find Evernote less than elegant, overall. Springpad takes all the good aspects of Evernote and adds a few more useful features. You can create and access notes while offline and the app will sync any notes or changes to the web server without prompting from you. Users can also create different kinds of notes from plain text to image to audio to a mix.
I use Springpad in two main ways. When I write on my phone, I usually do it here instead of in my work in progress document itself. Smartphone office apps sometimes mess with formatting, and the longer the document the more time it takes to open and scroll through and such. When I'm writing on my phone I'm just trying to get the words out, and a note is quick to open and saves automatically when I'm done.
I also use Springpad when researching. Aside from text and media notes, you can also create note types, and those types include places, products, lists, and things like books and movies. When I need to remember to buy or borrow a book for research, I can add it to Springpad, which pulls in the ISBN, author, and a link to Amazon or other source. Then I can add notes to the Book note itself. Springpad can also hook up with a barcode scanning app to add books that way — very useful when in physical bookstores.
Aside from the iPhone and Android apps, users can access Springpad via the web. There's an app for the Chrome browser that will save your notes for offline access if you want to download before you start writing then go offline.
Power Schedule (Android) — When I'm in a particularly procrastinaty mood I sometimes need some help staying off of the Internet when I should be writing. On my computer I employ the LeechBlock extension for Firefox, but then there's my smartphone sitting on the table tempting me to check Twitter for just 2 seconds…
There's no robust equivalent to LeechBlock for phones, but there are some apps that will put it in AirPlane mode or turn off selected radios at specified times. Power Schedule is one of my favorites.
This app allows you to turn off specific radios instead of everything at once, as with AirPlane mode. And you can set a separate schedule for each. Say you want to turn off your phone's data and the Wi-Fi so you won't go on the 'net but you need the phone on. Or, you don't want a phone call to interrupt but do want to keep on data in case you can handle a quick Google search without getting too distracted. I like being able to turn off data and Wi-Fi but leave on Bluetooth so I can stream music to my speaker.
I haven't seen an equivalent to this for iPhone, but if you know of one, tell us in the comments!
SugarSync, DropBox, Box.net (Android, iOS) — First thing: no matter who you are and what you write, you need a good backup system. If you don't have one, someday you'll discover too late why they're necessary. Do yourself a favor and set up a system, even if it's just for your important documents.
All of the cloud backup services here are easy to set up, offer some amount of storage for free, and don't require any extra effort after you get them going. My pick is SugarSync since it syncs any folder you want and offers 5GB for free.
Once you sign up, install the app on your phone so you can grab the latest version of your work in progress should you need it. You can also push documents to the web storage.
DocumentsToGo (Android, iOS) — I'm not a huge fan of mobile office apps, but they can be useful if you just want to open up your work in progress to remember where you left off before writing the next bit in SpringPad. The free version of DocsToGo will view Word, Excel and PowerPoint documents, but to edit them you'll need the paid version ($14.99).
Google Music (Android) — I need music while I write to get me in the mood and keep me going. Creating a playlist for a particular book or chapter is one of my writing prep steps.
I'm a big fan of Google Music because users can upload all of their music to the cloud (up to 20,000 tracks) and access it all via the Android app or a web-based player. The app will stream any song you've uploaded and will make them available for offline listening. I make sure my book's playlist is on my phone before cutting off the data so I can listen while I write.
What apps do you use for writing, research, or to keep yourself on track?

As an Amazon Associate I earn from qualifying purchases.