iPhone, iPad & Android Users Can Watch The 2012 Olympics For Free
The 2012 Summer Olympics in London are just weeks away, and we're finally learning about all the ways we can watch the games without a TV.
This year NBC will bring the Olympics to iOS and Android devices through the free NBC Olympics Live Extra apps. With those free apps users can watch every event in the Olympics for free. With the apps users don't need to hope that NBC televises their favorite obscure sports like the trampoline and water polo, they simply need to download and launch the Olympics app.
Users will have the chance to watch almost every event live, but can still catch up on events later. the app will feature "Full Event Replays" so users don't need to worry about catching the events live. That's especially useful given the time difference which will place most big events in the middle of the workday for most Americans.
For events like gymnastics and track & field users can take advantage of multiple camera angles. The descriptions don't tell us if users can choose which camera angles they view the action from, but we'd be surprised if that wasn't an option.
Other features include Gold Zone which will show the currently live gold medal events, and DVR functions for most events.
The apps will also give users Push notifications s they know when their favorite events are starting. Users can also choose to share the events they're watching with friends over Twitter and Facebook.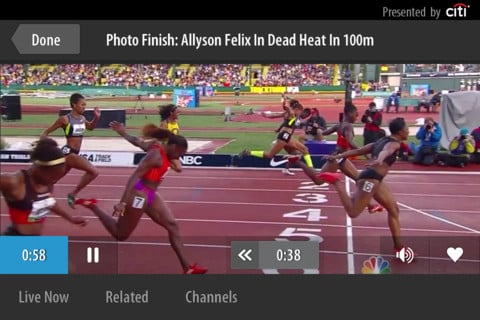 NBC teamed up with Adobe to create the apps and to stream the events. We hope that means the streams will look great over WiFi and 4G LTE and at least serviceable over 3G. We're excited to finally watch the Olympics on our smartphones, and it sounds like NBC and Adobe are doing everything they can to make sure the experience is a great one.

As an Amazon Associate I earn from qualifying purchases.