NEC Shows Off Large Screen, Dual-Screen, and Slim Form Factor Android Phones Ahead of MWC
In advance of Mobile World Congress, Japanese electronics-maker NEC has debuted three new Android devices with varying form factor to target different audiences. The three devices each either have a large screen, a slim form factor, or a dual-screen design that will make it appeal to specific users.
The first device, which NEC is calling the 'Best Cloud UX Device,' will have dual displays and resembles the Sony Tablet P and the Sprint Kyocera Echo smartphone. Unlike the Kyocera Echo, which has a clamshell sliding mechanism to hide one screen when closed and the Tablet P, which uses a clamshell to hide both screens on the inside of the clamshell when closed, it seems that the NEC's design will allow for both screens to be visible when closed. As the displays close outwards with the screen facing the outside, users can have quick access to information without having to open the displays. When opened, a slim bezel separates both displays and presumably users will be able to use Android spanning both displays for a tablet-like user experience. We're still not sure where the 'cloud' aspect comes into play, and it's likely NEC will have some proprietary cloud stores or services to accompany the hardware.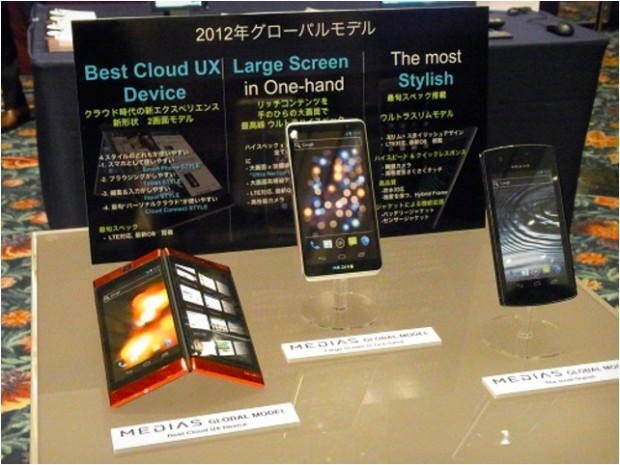 The second device will utilize a large display. The device has a small bezel and is said to be still operable one-handed. As 4.3-inch Android phones are now becoming the norm, we're seeing more Android smartphone-makers push the boundaries with large display sizes. Samsung recently released the Galaxy Note in the U.S. on AT&T's network with a high resolution 720p HD display spread out over a 5-inch screen. LG has announced in advance of Mobile World Congress the LG Vu, a 5-inch smartphone-tablet device that has a 4:3 aspect ratio and a resolution similar to Apple's iPad.
And then there's a slim form factor model, which presumably will compete in the same category as the Motorola Droid RAZR and the Huawei Ascend P1 S, which was announced just last month at CES. This one features a water-resistant coating, similar to Motorola's model, and has a fast camera.
Via: The Verge

This article may contain affiliate links. Click here for more details.