Need Some Help Android Tablet Users. Difficulty Authorizing Twitter Apps (Seesmic and Plume)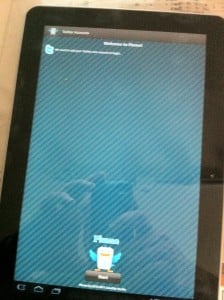 OK, this is just a puzzler to me. I'm probably doing something wrong and I will feel no shame if someone comes up with something simple I've overlooked. So, all suggestions are welcomed.
I've been trying to use a couple of third party Apps to access Twitter on the Samsung Galaxy Tab 10.1. Actually one of them will also let me access Facebook. Those Apps are Plume and Seesmic. You know the drill when you want to connect up any App via Twitter and/or Facebook. You have to tell Twitter and Facebook that this is OK and their are a small variety of methods which make this possible.
Well, in the case of Plume, I get a lovely screen that tells me I need to authorize it via Twitter. I hit the Start button, the App says it's getting my info from Twitter and then I get an error saying that the link between Twitter and Plume can't be created. With Seesmic I get a simple "authorization failed" for Twitter. For Facebook I get the usual Facebook sign in page but when I try to log in I just get a screen with no action buttons that say Seesmic is requesting Facebook's permission and I'm stuck there.
Is this because these are intended for Android phones and not Tablets? I'm not sure. The whole thing seems odd, clunky, and broken to me. Would love to have some responses here.
SideNote: Would also love for an easy way to take screen shots on the Galaxy Tab 10.1 but there isn't one. So, these photos will have to do. Would love to have some suggestions here too.

As an Amazon Associate I earn from qualifying purchases.