New Amazon Fire HDX 8.9 Available for Pre-Order
Amazon's new Fire HDX 8.9 offers faster specs, better sound and an improved display. Starting at $379, the Fire HDX 8.9 is available for pre-order today at Amazon.com for $379.
Amazon is attempting to position the Fire HDX 8.9 against the iPad Air, Apple's uber-popular tablet and what's essentially the default tablet for consumers and businesses alike. Whether or not the Fire HDX 8.9 is a better choice than the iPad Air completely depends on users' needs. Those immersed in Amazon services such as [easyazon_link asin="B00EW0FYA0″ locale="US" new_window="default" nofollow="default" tag="gbm-ea-20″ add_to_cart="default" cloaking="default" localization="default" popups="default"]Amazon Prime (One Year Membership)[/easyazon_link] and Kindle Unlimited.
[easyazon_block add_to_cart="default" align="right" asin="B00HCNHDN0″ cloaking="default" layout="top" localization="default" locale="US" nofollow="default" new_window="default" tag="gbm-ea-20″] The new Fire HDX 8.9 is available in several configurations. The base $379 model comes with 16GB of storage, is Wi-Fi only and has 'special offers' ads. The 32GB model is $50 more and the 64GB model is $100 more. Ordering a model without special offers costs $15 more. Highly-mobile users can add 4G LTE to the 32GB or 64GB  models for an extra $100. The 32GB Fire HDX 8.9 with 4G LTE costs $529.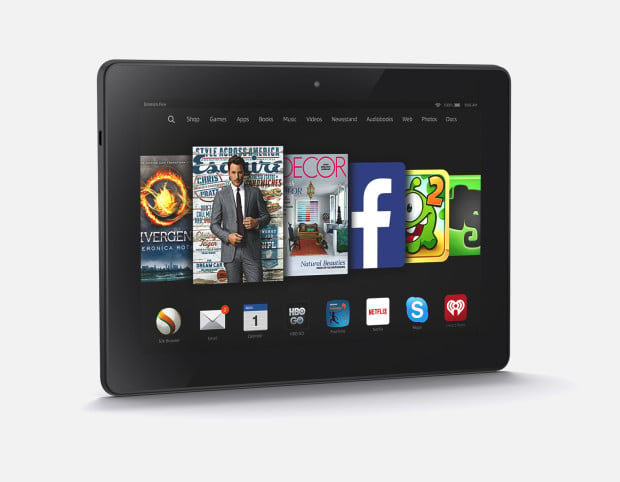 The tablet runs on a heavily customized version of Android that Amazon calls Fire OS 4.0. There are countless Android tablets on the market,  but Amazon tries to differentiate its tablets by tying in its media offerings and focusing on customer experience. The user interface is simplified and really focuses on content consumption. The Fire HDX comes with MayDay complimentary live video support
Amazon claims that the Fire HDX 8.9 audio is twice as loud as what's found on the iPad Air. That's partially due to the fact that the Fire HDX 8.9 has stereo speakers while the iPad Air has a lone speaker.  It is the first tablet to feature Dolby Atmos, a technology that creates an immersive surround sound experience when using headphones. The Dolby Atmos technology packed into the Fire HDX 8.9 is similar to the latest and greatest audio technology being rolled out in movie theaters.
As far as speed goes, Amazon claims the Fire HDX 8.9 runs on a 2.5GHz processor and a graphics engine that is 70% faster than previous Amazon tablets. This matters most to people that play a lot of games on their devices.
The Fire HDX 8.9 isn't all about play. Amazon is offering a $59.99 Fire Keyboard accessory for productivity. It weighs about seven ounces and will help at least some users from reaching for their laptops.

As an Amazon Associate I earn from qualifying purchases.