New Android L Update Confirmed
Companies continue to confirm Android L updates ahead of its inevitable release and while the latest isn't the missing Galaxy S4 Android L update or the Galaxy Note 3 Android L update, it's an important update nonetheless.
In late June, Google took the stage at its annual developer conference in San Francisco and announced a slew of new products including a brand new Android update dubbed Android L. Android L is a major Android update chock full of new features and it will be coming to replace Android 4.4 KitKat at some point in the future. Problem is, Google still isn't talking about the public release.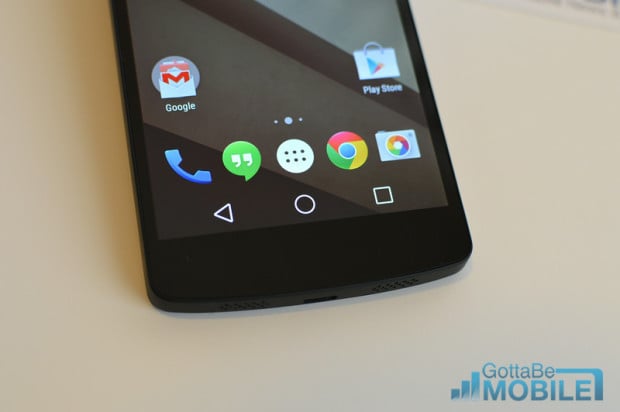 In the weeks since its announcement, we've seen Android L details start to trickle out. The Android L update is now confirmed for the Nexus 5 and Nexus 7 and it should also come to the Nexus 4 and Nexus 10 as well. We've also seen HTC confirm the update for its HTC One M8 and HTC One M7 telling users that the update will be out within 90 days of Google's initial release. Unfortunately Samsung, the world's most popular Android manufacturer, has yet to confirm its plans.
The Android L release is rumored for October, November or December though Google still hasn't acknowledged those rumors. Those dates pertain to HTC devices, not Nexus devices, so it's possible that we could see the Android L update arrive even sooner than that.
While the Android L release remains a bit of a mystery, we're continuing to see details emerge ahead of its public arrival. Most recently, OnePlus confirmed that its brand new Android device, the OnePlus One, will be getting the Android L update when the update rolls out.
In a forum post, the company announced that its flagship Android smartphone will indeed be getting the Android L update at some point down the road. In fact, the company outlined a very specific plan for the update saying that:
Well, we're keen to announce today that the OnePlus One will indeed be getting the L treatment. When, you ask? That depends on Google. We promise to have it done within three months of their releasing a final build.
So while it doesn't hint at any sort of release window from Google, it does offer a bit of a window for those that are in possession of or are thinking about buying the CyanogenMod powered OnePlus One. It's not clear what the OnePlus One Android L update will entail though we imagine that it will come with fixes, enhancements and a whole lot more.
Android L is not a minor Android update. In fact, it's going to be coming with a number of brand new features that Google thinks will improve the Android operating system as a whole.
Courtesy of Google, here are some of the biggest changes that Android L will deliver to both Android developers and Android users:
Material design for the multiscreen world — We've been working on a new design language at Google that takes a comprehensive approach to visual, motion, and interaction design across a number of platforms and form factors. Material design is a new aesthetic for designing apps in today's multi-device world. The L Developer Preview brings material design to Android, with a full set of tools for your apps. The system is incredibly flexible, allowing your app to express its individual character and brand with bold colors and a variety of responsive UI patterns and themeable elements.
Enhanced notifications — New lockscreen notifications let you surface content, updates, and actions to users at a glance, without unlocking. Visibility controls let you manage the types of information shown on the lockscreen. Heads-up notifications display content and actions in a small floating window that's managed by the system, no matter which app is in the foreground. Notifications are material themed and you can express your brand through accent colors and more.
Document-centric Recents — Now you can organize your app by tasks and present these concurrently as individual "documents" in the Recents screen. Users can flip through Recents to find the specific task they want and then jump deep into your app with a single tap.
Project Volta — New tools and APIs help your app run efficiently and conserve power. Battery Historian is a new tool that lets you visualize power events over time and understand how your app is using battery. A job scheduler API lets you set the conditions under which your background tasks and other jobs should run, such as when the device is idle or connected to an unmetered to a charger, to minimize battery impact.
BLE Peripheral Mode — Android devices can now function in Bluetooth Low Energy (BLE) peripheral mode. Apps can use this capability to broadcast their presence to nearby devices — for example, you can now build apps that let a device to function as a pedometer or health monitor and transmit data to another BLE device.
Multi-networking — Apps can work with the system to dynamically scan for available networks with specific capabilities and then automatically connect. This is useful when you want to manage handoffs or connect to a specialized network, such as a carrier-billing network.
Advanced camera capabilities — A new camera API gives you new capabilities for image capture and processing. On supported devices, your app can capture uncompressed YUV capture at full 8 megapixel resolution at 30 FPS. The API also lets you capture raw sensor data and control parameters such as exposure time, ISO sensitivity, and frame duration, on a per-frame basis.
64-bit support — The L Developer Preview adds support for 64-bit ABIs, for additional address space and improved performance with certain compute workloads. Apps written in the Java language can run immediately on 64-bit architectures with no modifications required. To support apps using native code, we're also releasing an updated NDK that includes 64-bit support.
To get a better feel for these changes, consumers can watch the Android L update in action in the video below.