Asus Transformer P1801: Both Desktop & Tablet, Windows 8 and Android
At CES Asus unveiled a new 18.5-inch all-in-one desktop that runs both Windows 8 and Android, according to Pocket Lint.
Like other recent all-in-ones from companies like Lenovo and Sony, the new Asus Transformer All-In-One P1801 has a battery that lets users disconnect the giant screen and carry it around as a tablet. Unlike the other two devices, the new Asus Transformer P1801 can run two operating systems: Windows 8 and Android.
Read more CES 2013 mobile news here
The Asus Transformer P1801 runs Windows 8 for everyday computing, giving users access to Metro apps, Live Tiles and legacy Windows 7 software. Users can interact with WIndows 8 through the touchscreen or keyboard and mouse.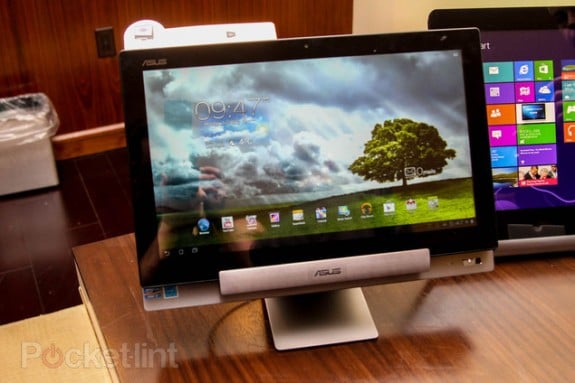 Asus also built Android 4.1 Jelly Bean into the 18.1-inch all-in-one so users can turn the device into a giant Android tablet… should they want to.
The Asus Transformer P1801 can even run both Windows 8 and Android at the same time when connected to an external monitor. Users can choose to run the two OSes side-by-side, in case there are apps they want on both platforms at the same time.
The benefits of Android on an 18.5-inch display are questionable, as most Android apps only fit well on phones and not tablets. Android does have more apps than Windows 8, but only a few of them will work well on such a large display. Many apps like Netflix, which will take advantage of the screen, are also available on Windows 8.
Many companies are now turning all-in-one PCs into large tablets with short battery life. Lenovo added its new Aura UI to the Horizon to take advantage of the tablet mode. Every company is trying something new for this new form factor, and adding Android to the device is an interesting idea.

As an Amazon Associate I earn from qualifying purchases.