New BlockBuster App for Droid Charge Blocks Rooted Users, Calls Them Out in The Process
It appears that BlockBuster's new application for Verizon's Samsung Droid Charge is blocking rooted users and preventing them from accessing movies. This comes just a few days after it became apparent that Google's new movie rental feature through the Android Marketplace was inaccessible to rooted Motorola Xoom owners.
Xoom owners trying to rent movies through Google's Android Marketplace were greeted with a message that stated that the device "failed to fetch license for [movie title] (error 49)." The reason? Well, it appears to be "due to requirements related to copyright protection." Essentially, Google or Hollywood or both assumed that rooted users were just going to steal content. Of course, the policy was met with a ton of backlash from offended Android device owners.
Well, BlockBuster's new application which was just released for the Droid Charge has taken it a step further and has actually called out owners for being rooted. Here, have a look: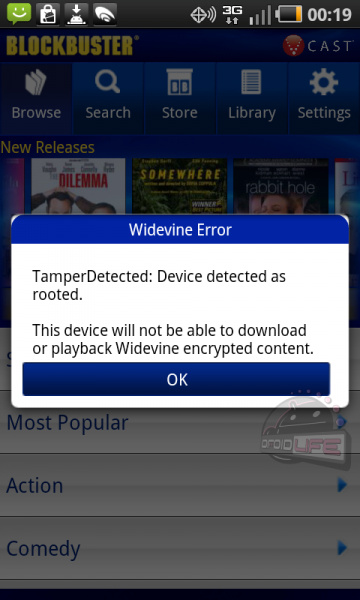 So it appears that the BlockBuster application is armed with Widevine's DRM which will automatically detect if you are running modified software. If you are, no soup for you. Oh and the best/worst part? Widevine is owned by Google. Go figure.
Via: Droid-Life

As an Amazon Associate I earn from qualifying purchases.