New Dell XPS 13 2-in-1: Dell Redesigns the Ultimate Windows Notebook
Windows PC maker Dell isn't waiting for its stylish Dell XPS 13 best-in-class notebook to be dethroned by a rival ultrabook or made redundant by a tablet. Using some new design techniques, Intel hardware and a few tricks, the new Dell XPS 13 2-in-1 can take on thin and light notebooks, plus every convertible laptop.
The company announced the $999 new Dell XPS 13 2-in-1 this morning in a press release ahead of the Consumer Electronics Show in Las Vegas, Nevada. Every year, the biggest names in Windows arrive at the show with refreshed notebooks, desktops and tablets that they plan to release in the near future. For the last few years, Dell has had one of the best showings there. Since its reveal a few years ago, the Dell XPS 13 has become a favorite of mobile professionals. It's often included in "Best of" lists.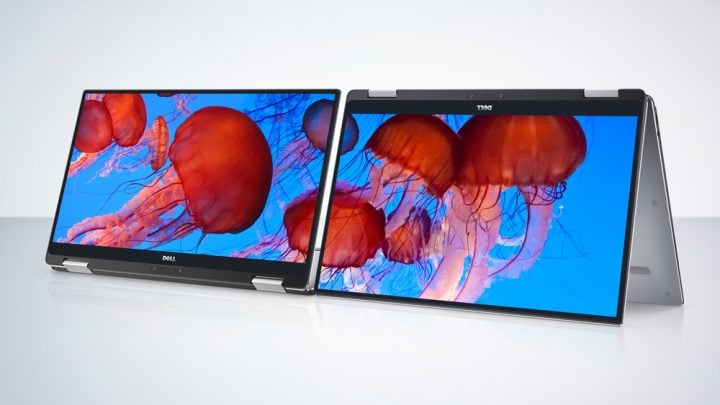 Read: Dell XPS 13 2015 Review
This new Dell XPS 13 2-in-1 is classified a convertible because it doesn't use the traditional hinges that its predecessors did. Instead of opening up the display and having it lock in place, users can flip the display over the rear of the notebook. This effectively turns the Dell XPS 13 2-in-1 into a tablet with a huge 13.3-inch tablet.
Dell says that to make the XPS 13 2-in-1 practical it had to redesign lots of the chassis that tech watchers loved. The device measures 0.54-inches at its thickest point. Thickness is very important when you're considering using a notebook as a tablet. If the PC is too thick, it won't be comfortable to hold. If it's too heavy, it won't be comfortable to keep on your lap either. At 2.7 pounds, it's not the lightest notebook ever, but buyers will be fine with that. Dell kept the carbon fiber and aluminum frame for the older design. The extra weight is likely worth the build quality and high-end finish.
The machine picks up some very useful upgrades along with this redesign. Dell will offer two processor options, Intel's 7th Generation Core i5-7Y54 and Core I7-7Y75 chips. Kaby Lake offers better support for 4K video, Intel says. Whichever processor shoppers choose; they won't need to worry about fan noise. No Dell XPS 13 2-in-1 has a fan, it seems. Only Intel HD Graphics 615 are offered in this machine. There aren't any options for a discrete graphics card.
RAM options range from 8GB of Dual Channel LPDDR3 to 16GB. The biggest storage option Dell plans to offer is a 1TB Solid State Drive. Because the Dell XPS 13 12-in-1 is a convertible, every version of it has a touchscreen that can detect up to 10 fingers. Dell kept the Infinity Edge display technology that gave the last generation Dell XPS 13's display such thin bezels. It's kept the FHD UltraSharp 4K display option for crisper visuals too. Choosing the basic display option gets shoppers 15 hours of battery life. Models with the 4K display last around 12 hours between charges.
Technology makers are beginning to rally around the new Thunderbolt port for their machines. Though it looks identical to USB Type-C, Thunderbolt offers one single interface for connecting docks, phones, displays and more. Plus, Thunderbolt offers very speedy transfers. The connector allows for charging.
Other connectivity options include Bluetooth 4.2, 1 USB Type-C port, MicroSD, a headset jack and a lock slot. Dell has bet on a fingerprint reader that supports Windows Hello instead of a web camera. Windows Hello lets you sign in without using a password. An optional stylus lets users take notes and keep track of their lives using Windows 10's Ink Workspace feature.
Dell plans to begin selling the new Dell XPS 13 2-in-1 on January 5th.