New Droid Bionic Battery Screenshot Shows 15% Battery Life Remaining After 25 Hours of Use
The Droid Bionic will be a powerhouse in far of its specs and battery life when it becomes available on Verizon Wireless this fall. New screenshots were recently posted to show the battery life of the device and usage at 15, 50, and 60 percent of battery life remaining with 4G LTE usage.
According to the person who sent in the screenshots depicting the Droid Bionic's battery meters, the device was operating with 3G CDMA coverage from 100-60% of battery remaining. Utilizing 40% of the battery, the person was able to get through nearly 15 hours of usage on the Droid Bionic, which will have a qHD display and dual-core processor.
At the 50 percent mark, the device was operated primarily on 4G with an initial shift between 3G and 4G LTE signal. At this point, the device has been on for over 19 hours, meaning that the extra 10 percent drop in battery life and with primarily 4G LTE use, the Droid Bionic managed 4 hours of usage when compared to the previous figure.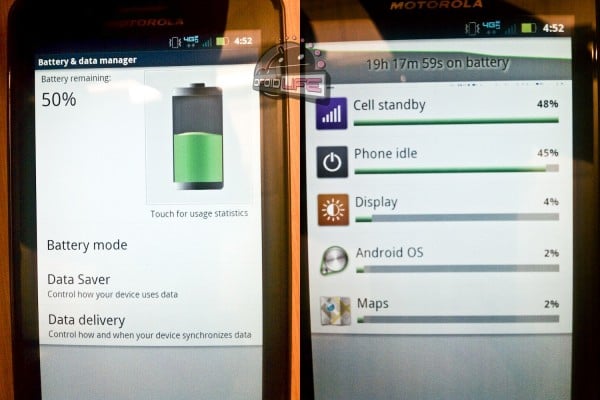 With 15 percent juice remaining, as we can see in the final photo, the device has been on for a full 25 hours, showing that the shipped battery in the Droid Bionic should last a user a whole day of average use between calls, text, emails, and app usage on Verizon's 4G LTE network. The device blows the HTC Thunderbolt out of the water with that device's anemic battery life and will be among the best smartphones out there in terms of specs and performance, coupled with Verizon's fast 4G LTE network, which is promised to deliver up to 15 Mbps on the download side and 6 Mbps on the upload.
Via: Droid-Life

This article may contain affiliate links. Click here for more details.