New Samsung Galaxy Note 8.0 Photos Show Off S Pen, Phone App
A new leak of the Samsung Galaxy Note 8.0 from FrAndroid shows the same design as yesterday's leak, but this time it also shows of the S Pen and some specs.
The photos of the leaked Galaxy Note 8.0 show a tablet that looks very much like an enlarged Galaxy Note 2 or Galaxy S3. Everything from the shape of the devices to the button and speaker placement mirrors Samsung's popular flagship smartphones in the new 8-inch tablet.
Like other Samsung devices that carry the Note name, the Galaxy Note 8.0 includes an S Pen stylus for interacting with the device and taking notes.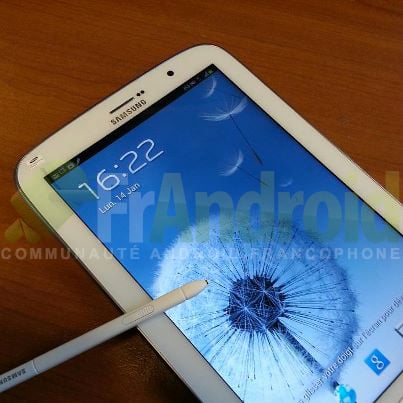 The S Pen in the new images look just like the newer version that ships with the Galaxy Note 10.1 and Galaxy Note 2. That version offers 1024 points of pressure sensitivity, which should make the S Pen better for drawing than previous versions. In practice on the Galaxy Note 10.1, however, the stylus didn't seem to register as many pressure sensitivities as Samsung claimed.
The second image of the Galaxy Note 8.0 shows the tablet running two apps at once with resizable windows for each. The image shows what looks like two windows of Chrome. This could show that Samsung will use Chrome for the pop up browser and allow multiple pop up browser instances, or it could be a look at the ability to run any app side-by-side on the Note 8.0
The images also show a phone app, which means Samsung may intend to sell the Galaxy Note 8.0 as a phone in some regions. That would explain why the tablet has the same speaker as it's 5.5-inch sibling, the Galaxy Note 2.
A spec sheet also accompanies the two new images, and it looks very similar to other leaked specs. According to the list the Galaxy Note 8.0 will use:
8-inch 1280×800 Super LCD display
Android 4.2 Jelly Bean
16GB or 32GB of storage
2GB of RAM
5MP rear-facing camera
1.3 front-facing camera
4300 mAh battery
Wi-Fi
Bluetooth 4.0
The specs make no mention of the HSPA+ radios included in previous leaks.
Samsung will announce the Galaxy Note 8.0 at Mobile World Congress next month where it will talk about the official specs of the device. At the event Samsung will also hopefully announce why the tablet can act as a phone, and if it plans to sell the tablet as a phone or a tablet.