New HTC Sense 5 UI Spotted on HTC G2?
A new leaked screenshot of HTC's Sense user interface overlay on top of Android was spotted with claims that this iteration of Sense will be headed to the rumored HTC G2, which is considered to be an entry-level smartphone. According to earlier leaks, the HTC G2 may be debuted alongside the oft rumored HTC M7, which may get branded as the HTC One at launch.
Though the screenshot of this version of HTC Sense posted on Phone Arena has a 320 X 480 resolution that matches the HTC G2's HVGA rumored spec, it does not appear consistent with the HTC One's leaked Sense 5.0 UI screenshots. As such, this leaked version of Sense doesn't share the same minimalist appearance of the HTC One's Sense UI.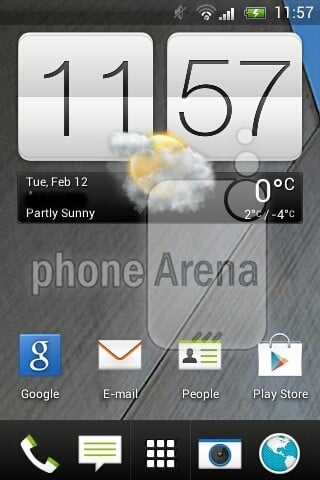 It's unclear if either Sense UI leaks are accurate at this point, though there's a speculation that since the HTC G2 is rumored to debut with Android 4.0 Ice Cream Sandwich rather than the newer Jelly Bean operating system, it may have a different version of HTC Sense. Another possibility is that HTC may be crafting a separate version of HTC Sense for use on high-end devices.
The HTC One is expected to be announced just ahead of Mobile World Congress at a separate event on February 19. Hopefully, we'll know clearly how the HTC Sense UI will look like on HTC's latest generation of devices.
HTC Sense was widely praised in the early days of Android to give the OS a more consumer look and feel as well as to add additional built-in functionality to Android. However, Android has evolved over recent years to become more aesthetically pleasing and encompass some of the functionality that HTC brought with Sense. As such, there are some consumers who would prefer that smartphones come without UI overlays and come with a more vanilla edition of Android.

This article may contain affiliate links. Click here for more details.