New Huawei Smartwatch Targets Females
When it comes to buying a smartwatch there are countless options available, but finding something stylish and petite for women is hard to find. The new Moto 360 2nd Gen has a smaller option for women, but today Huawei released two brand new Android Wear smartwatches specifically with the ladies in mind.
The Huawei Smartwatch running Google's latest Android Wear software was released earlier this year, and is arguably one of the best smartwatches on the market. It has a great design, good styling, a full round face and more, but it's about to get even better with thin straps and Swarovski crystals.
Today at CES 2016 Huawei unveiled two more versions of the Huawei Watch. They'll officially be called the Huawei Watch "Elegant" and "Jewel" with the last one having some crystals and added flair for those who want a flashy watch. Here's what we know so far.
Live in Las Vegas for CES 2016 Huawei announced both new watches, but didn't have too many other details to share at the show. What we do know though, is one of the fanciest and best looking Android Wear smartwatches is now targeting women specifically. Finally giving the ladies something worth buying, that has the elegance and style to go with it, rather than look like everything else.
Read: Huawei Watch Review: The Best Android Wear Watch
The new Huawei Watch Elegant and Jewel are very similar to Huawei's current Android Wear smartwatch, but actually slightly larger. It comes in 2mm bigger with a 1.4-inch display, which should look even better than before, but it's the rest of the watch that makes it geared for women.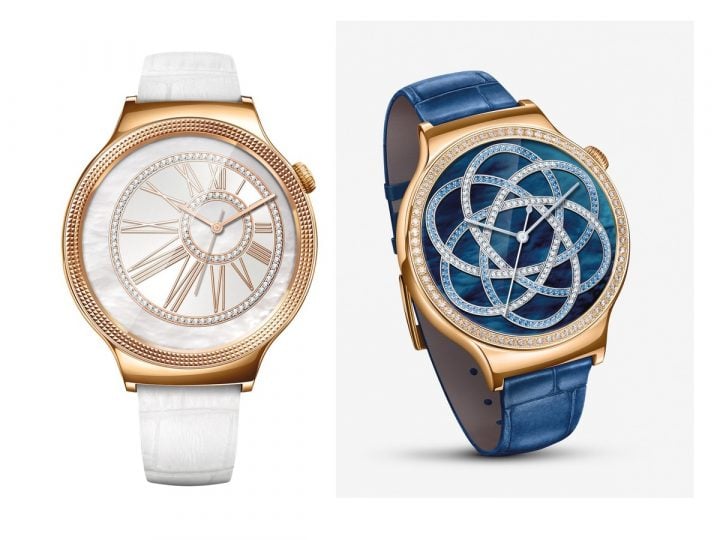 Shown above are both of Huawei's new Android Wear smartwatch options for women. The Elegant model on the left has the same overall specs and design as the original, but a few key changes for ladies. Those being a beautiful gold housing, thinner watch straps with a more feminine design and material, and there are even pre-loaded watch faces that aren't as "nerdy" like most Android Wear watches available today.
Then of course we have the new Huawei Watch Jewel, which as you can expect by the name, actually has Jewels on the front bezel. This makes it one of the best looking Android Wear watches I've seen to date, but sadly it's only for women. The front is covered in Swarovski crystals, or Jewels, to give it added styling. It comes with the same gold casing, 18mm lugs for the watch straps, but thin and stylish watch straps for women.
Huawei has some pretty odd names for these two new watches, but there's no arguing they look pretty good. It's worth nothing that both watches will come pre-loaded with the latest Android 6.0 Marshmallow version of Android Wear, and 10 specifically designed "exclusive feminine" watch faces. Rather than the typical watch faces available on all current watches, and the regular Huawei Watch.
The current Huawei Watch retails for $349 and up, and comes with a few different options for the band, and we're expecting something similar for these women models. Huawei stated they'll be available in Q1 of 2016, but had no exact release date or pricing to announce at this time. Stay tuned for more details.

As an Amazon Associate I earn from qualifying purchases.