5 Exciting iOS 9 Features for iPads
The iOS 9 update delivers five huge new iOS 9 iPad features that will change how you use your iPad and what you can do with it. These are a long time coming for the iPad, and some of these new iOS 9 features do come from Android roots, but that doesn't mean they are any less useful.
Apple announced the iOS 9 update at WWDC 2015 with a pubic iOS 9 beta in July and a iOS 9 release date in the fall. If you cannot wait, you can try the iOS 9 beta today without waiting for the official release.
One surprise from the event is that the iPad 2 and iPad mini both get iOS 9 updates. In fact every device on iOS 8 will run iOS 9 this fall. One of the most spectacular iOS 9 iPad features is only coming to the newest iPad Air 2 but the rest of them should work on some older devices.
Watch the video above for a closer look at the new iOS 9 iPad features running on the iPad Air 2. We may see some of these features come to a iPhone 6s Plus, thanks to the decent screen size, but for now Apple is focused on delivering more entertainment and more productivity on the iPad.
You don't need any accessories to use the new features, but if you use an external Pad keyboard the new iPad multitasking feature that lets you use two items on-screen at once will stand out and the new keyboard shortcuts will help you stay productive as well.
5 Exciting iOS 9 Features for iPads
Split View Multitasking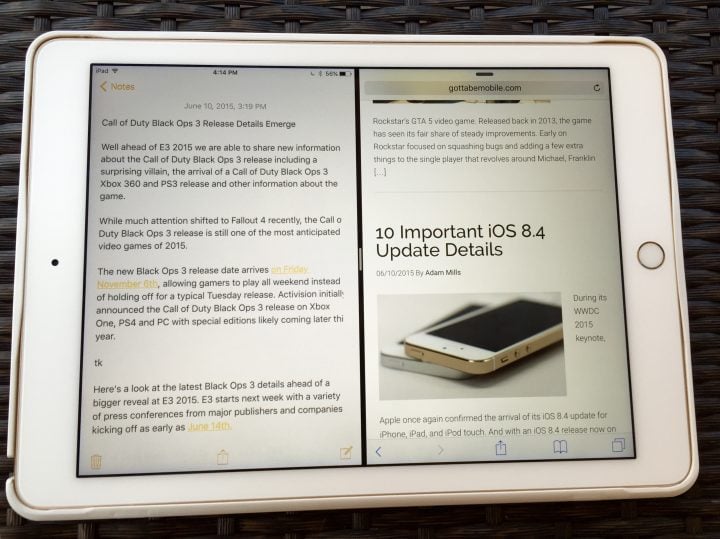 The new iOS 9 iPad multitasking feature lets users run two apps side by side on the iPad. This makes it possible to work in one app and reference another. Switching back and forth is easy to do and Apple makes it easy to make one of the apps larger than the other.
With Split View in iOS 9, the iPad Air 2 delivers greater productivity with or without an external keyboard.
Developers need to support these new features, but during the WWDC 2015 keynote Apple stated that many apps are already close to ready thanks to support for multiple screen sizes and states that the company introduced earlier.

As an Amazon Associate I earn from qualifying purchases.