New iPad Features A5X Processor with Quad-Core Graphics
As expected, Apple has introduced the new iPad at its event at the Yerba Buena Center for the Arts and sure enough, the device is packing a new processor inside. We had heard rumblings about a new, powerful processor and Apple has delivered. The new iPad is going to feature a dual-core  A5X processor with the X standing for quad-core.  Quad-core graphics that is.
Apple calls it a powerhouse and also states that it blows NVIDIA's quad-core Tegra 3 chip out of the water offering up to four times the performance. Apple also claims that its new chip is twice as fast.
Those claims seem to have to do with the graphics performance.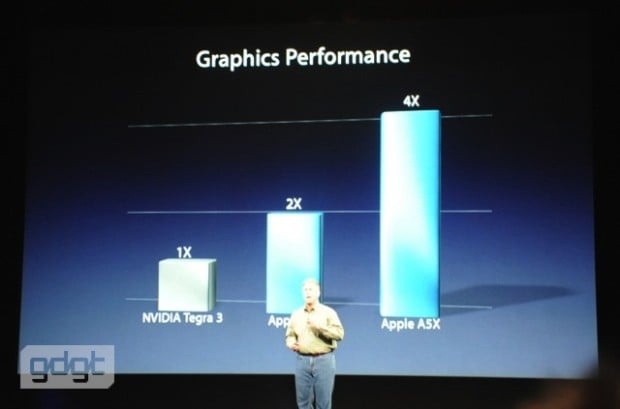 We still haven't seen benchmarks.
In addition, the new iPad will offer a full Retina Display with 2048 x 1536 resolution, that's quadruple the resolution found on the previous versions of the iPad, and it will also come with 4G LTE support.
It also supports HSPA+ for up to 42Mbps.
The new iPad, also has an iSight camera that can shoot 1080p video, it's still 5MP, and it also features auto-exposure, auto-focus, auto-face detection, great edge-to-edge detail, AF-lock.