New iPhone 5 Mockups Paint Picture of a 4-inch iPhone 5
The iPhone 5 is likely months away, but that won't stop designers from creating mockups of what they think the next iPhone will look like.
The new mockups, collected by 9To5Mac, range from an iPhone 4 changed to fit a larger screen to an entirely new design with a tapered back. All of the mockups show an iPhone with the same aspect ratio as the iPhone 4S instead of an elongated screen.
Keeping the same aspect ratio makes it easy for apps to scale to the new phone, but risks alienating users who prefer smaller devices.
(Read: iPhone 5 Release in October Bolstered By Lack of iOS 6 Beta)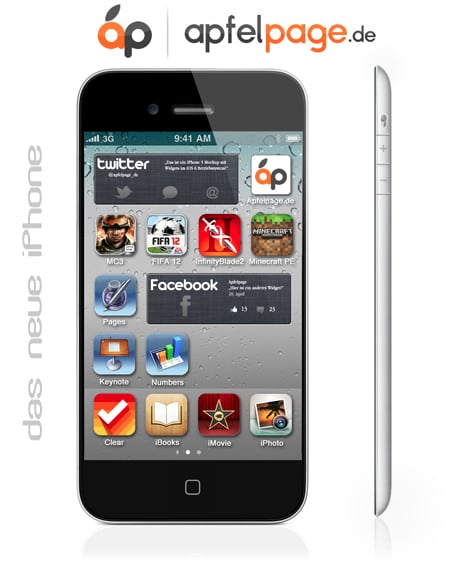 Out of the mockups posted, the most interesting one comes from German site apfelpage.de. The design shows a thinner iPhone 5 with a tapered back and very small bezels on the side of the screen. The design even has an iOS 6 mockup on the screen. The iOS 6 design features a redesigned dock and widgets. The widgets take up three-quarters of a row of icons on the home screen instead of being forced into Notification Center, making them similar to Android widgets.
(Read: Why I Want a 4-Inch iPhone)
The German mockup also uses a touch-sensitive home button, which seems unlikely given the leak of the iPhone 5 home button. It's not impossible, however.
Apple's next iPhone might not look like any of these mockups, but it's always nice to dream.
For now the only features that seem certain on the iPhone 5 are  4G LTE and a thinner design.  A 4-inch display seems likely as well, but there's still some doubt about that. There's also a possibility of a "liquid metal" back, though it seems unlikely as the same rumor said the phone will be out in June.
The iPhone 5 is still months away, so there's time for more rumors to come out detailing the device. For now we'll just have to deal with mockups.

As an Amazon Associate I earn from qualifying purchases.