New Leaked Images of Sprint's LG Eclipse 4G LTE Confirms NFC, Removable Battery
Newly surfaced images of Sprint's unannounced LG Eclipse 4G LTE Android smartphone confirms that the device will not only have Sprints next-generation 4G LTE network support, but will also come with NFC and a removable battery. The NFC feature would mean that this will be another Android smartphone on Sprint's Now Network to also receive Google Wallet support while the removable battery support will be welcomed from power users who may carry multiple batteries and swap them out during the day.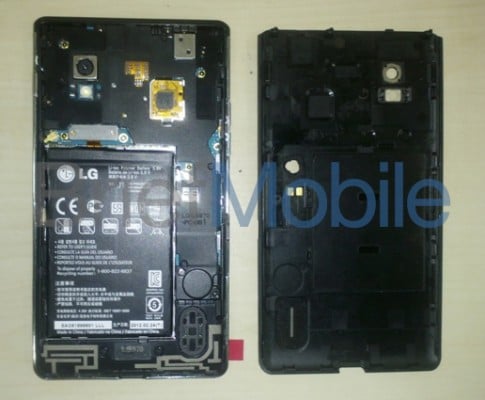 The image was originally posted on Brief Mobile. The device will have a 4.67-inch HD display, which is close in size to the HTC EVO 4G LTE's 4.7-inch screen, 1.5 GHz Snapdragon S4 processor, 13-megapixel camera, 16 GB storage, 2 GB RAM, and a capacious 2100 mAh battery. An earlier leak suggested that the CPU on the phone will be a quad-core S4.
While the majority of Android smartphones in the past come with support for user-serviceable memory cards and removable batteries, recent trends suggest that these features may be going away. Sprint's Galaxy Nexus, another 4G LTE device, offers the removable battery option but only comes with fixed on-board storage and there is no way for users to add or swap memory cards. The HTC EVO 4G LTE comes with a user serviceable memory card slot but not a removable battery, which has been a criticism of power users who are afraid that if they're not near a power source and when their battery dies, they will be without connectivity.
The LG Eclipse 4G LTE may be LG's second 4G LTE smartphone on Sprint's network following the launch of the mid-range LG Viper 4G LTE smartphone; that device was initially showcased and announced at CES and launched at around the same time as the Galaxy Nexus on Sprint's network.
While Sprint is announcing and launching new 4G LTE smartphones, the network still has not flipped on LTE connectivity yet. These devices, unfortunately, won't be able to connect to the aging 4G WiMax service and early adopters must unfortunately be limited to 3G EVDO speeds until Sprint lights up 4G LTE connectivity.

As an Amazon Associate I earn from qualifying purchases.