New LG G3 Release Coming Next Month
When the all-new LG G3 was announced back in May users were shown five stunning colors of the new smartphone. Those being Metallic Black, Silk White, Shine Gold, Moon Violet, and Burgundy Red. Just like the Samsung Galaxy S5 which was announced in a slew of colors, a few of those never made it to market.
Earlier this month the LG G3 finally went on sale in the United States from Verizon, T-Mobile, AT&T, and Sprint, but none of them offer all the colors LG promised. Currently only the white and black models are available, with Sprint having an exclusive on the Shine Gold variant.
Read: LG G3 Deal Delivers $100 Best Buy Gift Card
Just like the blue Galaxy S5 that is still missing in action, those considering the Gold, Violet, or Red LG G3 haven't been able to find one. Except a few limited exclusive cases with the gold option. However, next month the options are about to expand for select markets.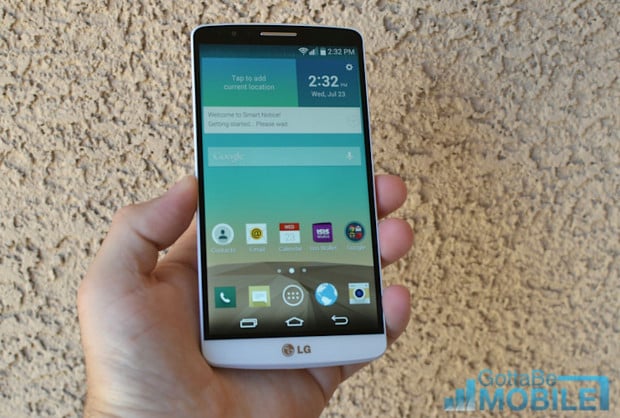 The LG G3 was announced with five different color options, and now over two months later only three of the five are available today. This is a growing trend from manufacturers, as the popular colors receive initial treatment, and then exclusive deals with select regions or carriers deliver custom colors for those who are interested.
In the United States we've seen AT&T get exclusive color options like the Red Galaxy SIII, and Sprint seems to enjoy offering Gold in any device they can manage, but so far that's about it. If new details from PhoneArena are accurate, according to LG next month the other two LG G3 variants will launch across the globe, and rollout before the end of the month.
Today LG announced that the other two remaining colors will be announced and launched in select markets next month, and they'll be announcing special carrier exclusives in the near future, possibly in the coming weeks. We could see AT&T get another color option, or these could simply arrive only for those outside of the US, but it's too early to tell.
Read: Faster LG G3 Variant Emerges
Earlier this month a brand new, even faster and better version of the LG G3 was announced for Korea. A device which will likely never arrive in the United States, so it's possible that these other color options won't come stateside either. We'll have to wait and see what LG and carriers have in store.
At the same time, next month the new Moto X+1 is rumored to make an appearance and finally launch with tons of customization. Last year the Moto X offered over 18 different color versions, accent colors, wood backs, and more. The new Moto X+1 is expected to offer all of that and expand the options with custom leather backs, including different colors for the leather. Making it one of the most customizable smartphones on the market.
If LG wants to steal some of the potential Moto X+1 buyers looking for a less traditional color, the Moon Violet and Burgundy Red G3 could be something worth waiting for.
As a reminder the LG G3 comes equipped with a large 5.5-inch 2560 x 1440 Quad-HD display, a fast quad-core processor with 3GB of RAM and 32GB of storage, and an impressive 13 megapixel OIS camera with a first of its kind laser auto-focus. We gave it high praises in our full review, and will keep an eye out for more details regarding additional options or colors.
If a new LG G3 variant is coming next month an announcement and official details should arrive soon. Stay tuned for more details as they become available.