New MCA Tablet PC from ARBOR
Just received word from a company called ARBOR Tech. that they have a new Mobile Clinical Assistant Tablet PC on the market.
The M1255 follows the same basic design as previous MCAs with the built-in handle for carrying and rugged design to resist spills and tumbles. Fully sealed with no vents, so it must run a highly efficient processor, in this case Intel Atom 1.6GHz N270. No mention of OS, but we know Windows can run on Intel Atom. More photos and the full press release after the jump.
ARBOR Unveils Atom-powered MCA Rugged Tablet
Date: 08/06/2009
ARBOR Tech., a leading provider of embedded and networking computing, has launched a portable medical tablet targeting MCA (Mobile Clinical Assistant) application. M1255 has a 12.1″ resistive touch screen, 1.6GHz Atom N270 processor, 1GB of RAM, 60GB HDD, 802.11a/b/g wireless networking, 2.0 megapixel camera, 2D barcode scanner, fingerprint scanner, RFID reader, serial port, VGA port, GbE LAN, four USB 2.0 ports.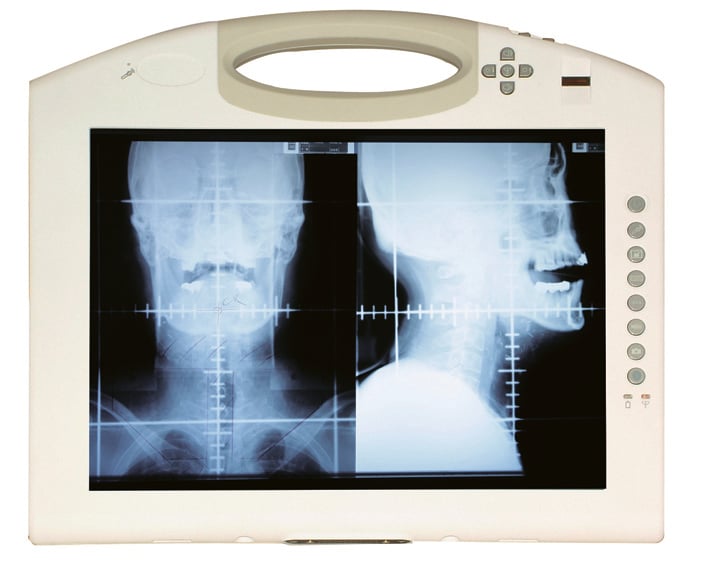 Your Smart Atom Inside MCA Rugged Tablet PC
How does M1255 exceed the MCA competitors? Four things make it different. Compliant with the mechanical, electrical, ergonomic, and software design principles of Intel's original reference design, M1255 provides competitive edges including Atom inside & more powerful mobile computing, rugged & ultra-light design, larger LCD module, easy cleaned & disinfected design enclosure.
> Double Injection Tooling Design, Fully Sealed, Fanless and Ventless, Entire Device IP54 Compliant
> Ultra Slim (25mm) and Lightweight (1.6kg) Design
M1255 is ideal choice for MCA due to the "three M-" (Mobility, Multi-expansion, Multi-connectivity) features.
Mobility
Mobility was crucial factor for making a best clinical assist for doctors, who are the most interested in mobility among the mobile information workers.   With Intel Atom core inside, ultra slim (25mm) and lightweight (1.6kg) design, and slip-free grip for easy handling, M1255 is designed to be comfortably carried all day.
With 12.1″ high-definition XGA touch screen (1024 x 768 resolution), eight function keys, one diamond button and fingerprint scanner on front panel, clinicians can easily operate the device with finger or stylus. Moreover, M1255 provides two external hot-swappable 1880mAh Li-batteries to extend the battery life to 3.5 hours and prevent system crash when switching power source. M1255 is the industry's most complete MCA solution for Mobile Healthcare.
Multi-expansion, Multi-connectivity
For enhancing healthcare quality and interactive communication, M1255 is equipped with 2.0 megapixel camera, 2D Barcode scanner, RFID, fingerprint scanner, 2 speakers and ample IO ports for flexible expansion purpose to connect other medical devices.
In clinical station, the most important consideration is to get the electronic medical records (EMRs) quickly and accurately. M1255 is wirelessly connected with Bluetooth or WLAN module, medical staff can link to world getting information and sending patient conditions to the hospital for further treatment.
> Designed to Be Comfortably Carried All Day
Smart Access
Biometric Fingerprint Validation allows healthcare professionals to access real-time patient records and bring reliable, automated patient data management directly to the point of care.  Access to disengage M1255 from the docking station or to operate it is granted only through a successful biometric fingerprint validation. This feature offers a quick and convenient way of identity authentication for multi-users and protects medical data from unauthorized access.
Smart View, Care View
Today, hospitals are increasingly deploying electronic medical records (EMRs) and other healthcare information technology (HIT) solutions to streamline the collection and dissemination of clinical information.   ARBOR Technology identifies the above thriving medical market needs and rolls out complete E-Healthcare solution. Except for M1255 medical tablet series, ARBOR also develops a portfolio of medical PCs (Smart View series) and medical displays (Care View series) that suits for every hospital environment as emergency room, surgery room, ICU, bedside, etc.
Smart View and Care View series feature with slim and compact, fanless and low noise, easy clean and disinfected, anti-shock and anti-vibration, rich I/O with isolation design and patented membrane antenna for patient/medication verification to ensure ARBOR medical solutions meet the needs of healthcare professionals.
Customizable to Your Project with ARBOR Medical Solution
M1255's considerate design characteristics for Mobile Healthcare are definitely your first choice when it comes to Medical PC.   Also, ARBOR provides a series of Low-power solution and professional ODM services to tailor any Medical PC by customer's specific request to ensure the eHealth solution meet the needs of different healthcare professionals. For further information, please visit ARBOR website: https://www.arbor.com.tw/, https://www.medicalpc.com.tw/ or contact with ARBOR representatives at: [email protected]
---
About ARBOR
Since founded in 1993, ARBOR Tech. has been specializing in embedded computing and networking solutions to help realize the vision of "Digital Enterprise & Digital Life."  We have been delivering numerous successful projects for our customers with outstanding results in terms of adopting advanced embedded design, severe test & measurement and quick response to market changes.  ARBOR provides a full fleet of embedded computing platforms from board to system, which let you cover the needs of networking communication, DVR surveillance, industrial control, process control, transportation control, POS & Kiosk and Tablet PC.
ARBOR is an ISO-9001 certified embedded & networking manufacturer and commits to deliver high quality products with international standard and well-defined production process.  Also, ARBOR was awarded the "Taiwan Symbol of Excellence Award" by its products, which verifies its efforts and commitment to embedded computing.  As a member of the Intel ® Embedded and Communications Alliance, ARBOR realizes your embedded computing vision with the most advanced Intel ® embedded computing solutions.  ARBOR has intensive operations across the world and deploys embedded computing solutions to every corner wherever you are.
Media Contact : [email protected]
Inquiry Contact : [email protected]