New MID on the Block: Optima OP5-E MID running Maemo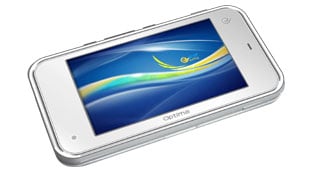 Been a while since we've seen a new Internet tablet from Nokia, but their Linux-based Maemo OS is still venturing out into the world. A Chinese company called Optima is releasing a new MID called the OP5-E running the (mostly) open source OS. The design clearly draws from the iPhone, particularly other shots showing a black front panel, but the screen dimensions of 800 x 480 with 4.3″ diagonal put this in line with Nokia's MIDs.
The product web page is in Chinese, but with the help of Google's translator, we learn it's loaded with a 806MHz Marvell PXA320 processor, 4GB of T-Flash memory (removable, supports up to 16GB), 2600mAh battery (providing 6-8 hours of activity), a 3G module for WWAN (EV-DO), and GPS.
No mention of Bluetooth in the description page, but it's listed in the specs page, along with 802.11b/g wifi. As for voice calls, the specs list functionality as a handset, headset over Bluetooth, and control via 3.5mm headphone jack. And there's this from the description: "More It is worth mentioning that the first time in OP5-E products introduced MID function call, making the consumer equipment in the access to the Internet while at the same time have a mobile phone." Man, I love Google Translator.
However, under the software listing, it notes that call and messaging functionality will not be initially supported but will be updated later, so don't plan on making this your next phone just yet. Looks like a pretty good MID though.
Via Pocketables

This article may contain affiliate links. Click here for more details.