New Moto X 2016 Leaks Take Aim at Galaxy S7
The new 2015 Moto X Pure Edition has only been available for a few months, but that doesn't mean the company isn't hard at work on its next phone for 2016. With popular phones like the Galaxy S7 and LG G5 coming soon and already being heavily rumored, we're now starting to see some early photos of what could be the 2016 Moto X.
Over the course of the past week two rather odd photos have emerged of what's reportedly being called the 2016 Moto X, or the Moto X 4th Gen with a premium all aluminum design, a huge camera, and some unique design changes that could show Motorola looks to take on the Galaxy S7 and more in 2016.
Read: Moto X Pure Edition Review
Motorola's Moto X has been popular over the past few years, including the new 2015 Moto X with a big 5.7-inch display, aluminum frame and low $399 price tag. However it looks like next year Motorola wants to make some big changes and offer a more premium experience. At least if the latest few leaks are accurate. Read on for more details.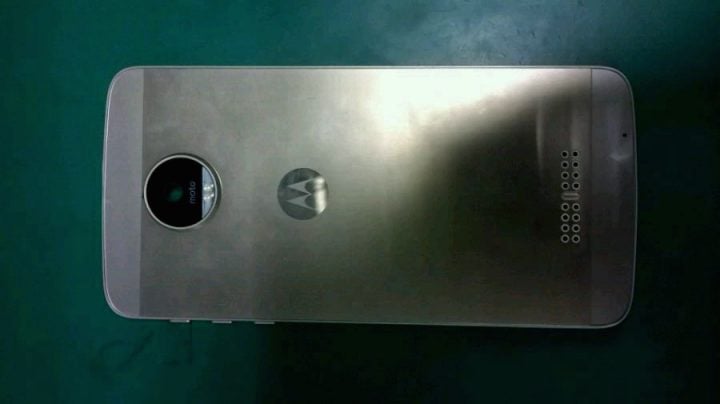 Samsung's Galaxy S6 is an all aluminum phone, and we're hearing the same aluminum design will accompany the Galaxy S7 in 2016, and even the LG G5. If Motorola wants to compete, they'll need to offer something similar.
This week two photos have surfaced that are reportedly of the new 2016 Moto X smartphone. The one above first appeared late last week, which some are calling fake or a very early prototype. Then another this morning from GforGames. They show an all aluminum smartphone with what looks to be a rear speaker, rather than the dual front facing speakers we've seen from Motorola as of late. Not to mention a copper pipe of some sort to possibly help disperse heat from inside of the smartphone.
We've seen copper pipes in computers to help with heat, but never inside of a smartphone. Below is the photos that surfaced today. It somewhat matches the earlier photo shown above, right down to the metal chassis, huge camera on one end, and what looks to be a cutout for the rear speaker on the right side or bottom of the phone.
It's worth nothing that Motorola has offered front facing speakers for more than a few years now on its smartphones, so it wouldn't make any sense for the company to backtrack and put it on the back. Unless that's a 3rd speaker of some sort for even better audio output on the new Moto X in 2016.
The photos show what appears to be a big 5.7-inch or bigger new Moto X with a massive camera lens and a dual flash inside the camera circle, buttons on the sides, no fingerprint scanner, odd rear facing speakers, and now a cooling pipe on the inside.
Read: Moto X 2014 Review
Most likely these are nothing but extremely early prototype images or fakes of the smartphone, but we'll have to wait and see. Motorola could look to take on Samsung and Apple by releasing an impressive smartphone with an all aluminum design, an impressive camera with a huge sensor for better low light performance, and a powerful Snapdragon 820 8-core processor for better overall performance.
For now it's far too early to tell what exactly Motorola has planned, not to mention the company typically releases its flagship smartphones in August or September, not earlier in the year. Meaning these could be fake, very early prototypes, or Motorola could be pushing the release date to earlier in the year in order to take on the Android competition.

As an Amazon Associate I earn from qualifying purchases.