New Nexus Phone: Everything We Think We Know
Google and LG are heavily rumored to be announcing the next Nexus smartphone, dubbed the LG Nexus 4, this month. And while the device remains unofficial, it has leaked out several times, painting a vivid picture of what to expect in just a few weeks from Google's yearly Nexus smartphone. Here is everything we think we know about the new Nexus phone, the LG Nexus 4.
The last two Nexus smartphones were made by HTC (Nexus One) and Samsung (Nexus S, Samsung Galaxy Nexus). This year, it appears that Google has turned to LG, at the very least, to manufacturer the Nexus smartphone.
While the device remains in the shadows, leaks suggest that the phone will arrive soon to take on the likes of the Samsung Galaxy Note 2, iPhone 5 and Microsoft's arsenal of Windows Phone 8 powered devices including the Nokia 920 and the Windows Phone 8X.
Read: New Nexus Phone vs. iPhone 5.
The new Nexus phone from LG, thus far, appears to bear a striking resemblance to last year's Galaxy Nexus but packs a much bigger punch in terms of hardware and likely, performance.
Here we take a in-depth look at everything we think we know about the LG Nexus 4 itself including its features, its launch, its price and the upcoming LG Nexus 4 release date.
New Nexus Phone Launch Date
Thus far, rumors point to a new Nexus phone launch on October 29th. That date marks the kick off of the All Things D: Dive Into Mobile conference, a conference that Google's Android head, Andy Rubin, will be speaking at. It's the same conference where Rubin announced the Motorola Xoom and Android 3.0 back in 2010 and it appears that this year, the stage is set for more Nexus announcements.
One of those, again, should be the LG Nexus 4, this year's Nexus smartphone. There have been rumors about other Nexus smartphones – the Galaxy Nexus 2 and a Sony Nexus X in particular – but the Galaxy Nexus 2 rumors appear to be dead and the Nexus X looks flimsy at best.
So yes, it's possible that we could see multiple phones announced on October 29th but at this point, consumers should expect only one phone, the LG Nexus 4, to arrive on October 29th.
New Nexus Phone Release Date
While we have a potential launch date, we as of yet, do not have any concrete information about a release date for the new Nexus phone. A previous report from French publication Le Figaro claims that the new Nexus will be released on October 29th, the same day as the announcement. If true, it would mark the second time that Google has done this kind of release. The Nexus One was released the same day as its announcement.
Read: LG Nexus 4 Release Date and Price Predictions.
Given how often this device has leaked out and the fact that Google likely plans to sell this phone through its Google Play Store, a same-day release seems plausible at this point but as of now, that report stands alone.
Previously, we had heard November as a possibility so at this point, it's safe to expect the device to arrive either in late October or at some point during the month of November.
New Nexus Phone Features
As for the LG Nexus 4 itself, the device has leaked out numerous times over the last few weeks, culminating in a full-on review from Onliner, who managed to get a hold of a LG Nexus 4 prototype ahead of its launch.
Design
The Nexus 4 is expected to feature a design similar to the last Nexus smartphone, the Samsung Galaxy Nexus. In the photo below, we can see the device's sitting side by side. While the Galaxy Nexus was gray with curves at the top and bottom, the Nexus 4 appears to be black with a flush design. The back of the Nexus 4 appears to be smooth and glossy as well which could mean that it's made of scratch-resistant glass.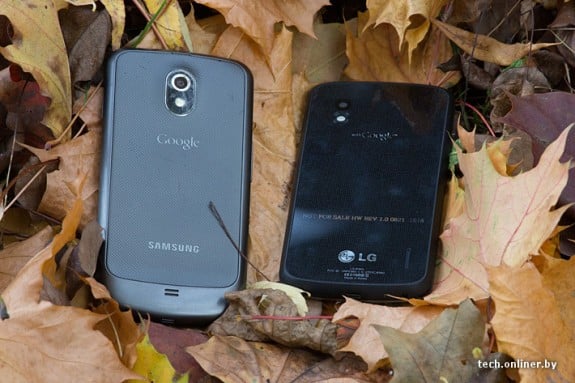 It has also become clear that the phone will feature a plastic design rather than one made of glass or metal. Users should also expect the usual from the Nexus 4 design including power button, volume rocker, microUSB slot and headphone jack.
The Nexus 4 is also said to be 9.2mm thin.
Two other things of note. One, it doesn't appear to have any pins on its side for use with accessories and while it's not visible on this prototype, the phone is said to have a backing that features a multi-colored Nexus logo.
Display
The display, like most Android smartphones, will apparently be massive checking in at 4.7-inches in size. It will come with 1280×768 resolution which means that it will be full on HD. Rumors also state that the display might have a 320ppi which could mean that the display on this new Nexus phone could be on par with Apple's Retina Display on the iPhone 5.
At the very least, the PPI seems to point to the Nexus 4 having extremely clear text and images.
Processor
Currently, the Nexus 4 is rumored, again like most current high-end smartphones, to have a quad-core processor clocked at 1.5GHz. That, paired with 2GB of RAM should mean that the phone is quick and able to handle Android with ease.
Connectivity
Thus far, we haven't heard anything about connectivity but assuming the device follows in the footsteps of the Galaxy Nexus, we imagine it has HSPA+ support at the very least and quite possibly, 4G LTE support as well.
If the device does head to official carriers in the U.S., it will rock 4G LTE.
Cameras
The rear camera on the Nexus 4 is rumored to be 8MP. It will also have a front-facing camera for video chat purposes. The Galaxy Nexus' rear camera was serviceable but not amazing and it looks like the camera on the LG Nexus 4 won't make the gold standard either.
A sample shot from the camera can be seen below.
We expect it to be able to shoot 1080p video and take decent enough photos, but don't expect the world from it.
Android 4.2
Lastly, the device is rumored to be running Android Jelly Bean though it's unclear right now what version of Jelly Bean it might be. Currently, Android 4.1.2 is out but it looks like the Nexus 4 may run a version dubbed Android 4.2.
That version of Android has been popping up in quite a few places though its many of its features remain unknown. We have heard about a revamped Gmail 4.2 application that features overhauled attachments ad notifications and a feature called Quick Settings, but that's it thus far.
At the very least, the device will run Android 4.1 Jelly Bean which sports a number of impressive which can be seen in the video below.
If Android 4.2 is on board, expect it to be detailed alongside the Nexus smartphone on October 29th.
Name
Earlier, the device was expected to be called LG Optimus Nexus or LG Optimus G Nexus but now it appears that it may be called the LG Nexus 4 or maybe simply, Nexus 4. With the Nexus 7, Google shifted to the numerical naming system based on screen size and that's why the Nexus 4 name fits perfectly.
In addition, the name has shown up in several places including EXIF data from Picasa photos.
New Nexus Phone Carriers
It has been suggested that the LG Nexus 4 will arrive on French carrier SFR at some point in December. If that's the case, then it could be that Google is indeed planning on releasing the new Nexus onto American carriers as well.
There has been no indication of this thus far though. Sprint and Verizon both launched last year's Nexus, the Galaxy Nexus, and it's possible that there could be a repeat of the same here.
AT&T is also a possibility given that its 4G LTE network is now second in terms of footprint size.
Assuming Google sells this phone unlocked on its Google Play Store, we should at least see support for AT&T and T-Mobile, both of which are GSM networks, and both of which support the Galaxy Nexus HSPA+ as well as the previous versions of the Nexus.
New Nexus Phone Price
As of yet, the new Nexus price has not leaked to the surface though we get the feeling, based on its 8GB storage option, its plastic design and its lack of a microSD card slot, that Google might be attempting to offer this phone for cheap.
Currently, Google offers the Galaxy Nexus for $349 unlocked on the Google Play Store and we could see that price dip even further with the Nexus 4 if the specs are the real deal.
If it launches on specific carriers then the price would obviously be much higher. How much higher? We aren't sure exactly but we doubt it would be, given the specs, much more than $199.99, the typical launch price for a high-end Android smartphone.

As an Amazon Associate I earn from qualifying purchases.