New Nexus Phone vs. iPhone 5
It has become clear that, at the very least, LG will be releasing a new Nexus phone this year to compete not only with other Android devices but with Apple's new iPhone as well. Dubbed the LG Nexus 4, at least for now, the device marries some pretty hefty specifications with the benefits that only a Nexus device can offer. But how does it stack up against the iPhone 5? Let's take a look.
While Apple's yearly smartphone, the iPhone 5, is already in the hands of consumers, Google has yet to release its yearly smartphone which arrives with the Nexus moniker. In the past, Google has turned to companies like HTC and Samsung to build its Nexus-branded smartphone. However, this year, it looks like LG is tasked with developing the device.
Read: New Nexus Phone Compared to iPhone 5 in New Photos.
The LG-made Nexus still isn't official yet but numerous leaks have not only pinpointed its specifications, but they have also revealed the phone for the entire world to see ahead of its presumed launch date. The LG Nexus 4, as it may be called, is presumably going to be announced by Andy Rubin on stage at the All Things D Dive Into Mobile conference on October 29th.
And it is there that Google will reveal its latest iPhone 5 competitor. That being said, here is how the rumored LG Nexus 4 matches up with Apple's latest-generation smartphone, the iPhone 5.
Release Date
On September 21st, Apple released the iPhone 5 in the United States and several other regions. The device is still making its rounds and if it's not available in your country just yet, it should be in the coming weeks and months. Apple plans to release the iPhone 5 in over 100 countries by the end of 2012 and we expect that it will tack on some more in 2013 as well.
Even though it was released in September doesn't mean it's easy to find though. Apple's online stores and retail stores are back-ordered and AT&T, Sprint and Verizon, the three major carriers in the U.S.
Read: LG Nexus 4 Release Date and Price Predictions.
https://youtu.be/xNsGNlDb6xY
As for the new Nexus phone release date, we still don't have one. It's possible, and we've heard this might be the case, that the release date for the Google Play Store will be on October 29th, though it would be the first same-day release since the original Nexus One.
French publication Le Figaro also claims that the new Nexus will hit French carrier SFR by the end of December which means that CDMA carriers like Sprint and Verizon could also get the new Nexus around that time as well.
Display
With the iPhone 5, Apple for the first time increased the size of the iPhone 5's screen. The iPhone 5 boasts a 4-inch display, up from the 3.5-inch displays that populated the earlier iPhone models. In addition, Apple included a 16:9 aspect ratio which means that the iPhone now can play widescreen content. This makes watching movies a pleasure on the new iPhone 5's display.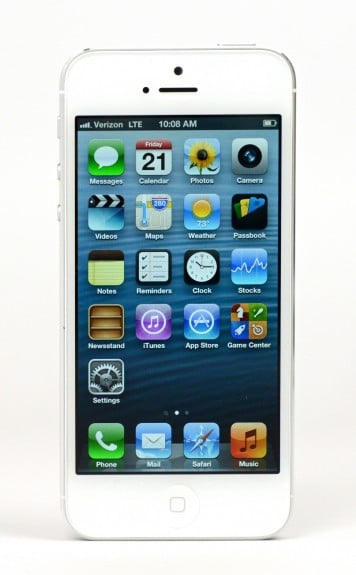 The iPhone 5 uses a Retina Display with a 1136 x 640 resolution which is not full HD resolution. However, it also offers 326 pixels-per-inch which means it brings extremely clear on-screen text because users cannot see individual pixels.
As for the screen on the LG Nexus 4, it's expected to be 4.7-inches in size with a 1280×768 resolution. That means that it will be full on HD. Rumors state that the display might have a 320ppi which could mean that the display on this new Nexus phone could be on par with Apple's Retina Display on the iPhone 5. We imagine that it will have something similar to a 16:9 aspect ratio as well which means that it too will be able to play widescreen content.
What this means is that the biggest difference is going to be the size. Those who want a large screen may want to take a closer look at the LG Nexus 4 while those who aren't in need of a massive display, may opt to look closely at the iPhone 5.
Design
The iPhone 4 and the iPhone 4S shared similar designs. However, with the iPhone 5, Apple got rid of the glass back and replaced it with a sleek new industrial design that features a two-toned back with the largest piece composed of anodized aluminum. Around the edges of the iPhone 5 there is a band of metal which is both easy to grip and adds to the beauty of the phone.
The iPhone 5 is also both lighter and slimmer than the iPhone 4S. It weighs 112 grams as opposed to the 140 gram weight of the iPhone 4S and the difference is noticeable right off the bat. In fact, some users have complained about the phone being too light. If that can actually be chalked up as a complaint. And while the iPhone 4S was 9.3mm thin, the iPhone 5 is 7.6mm thin.
This is an area where the LG Nexus 4 may not match up well with the iPhone 5. From the photos, it appears that the device matches up quite nicely with the previous Nexus, the Galaxy Nexus. We see a shell that features rounded corners and a lot of black. And because of its screen, it also appears to have a massive footprint.
A 3D image of the new Nexus phone make it appear fairly slender but how slender or how heavy are two features that remain unclear at this point.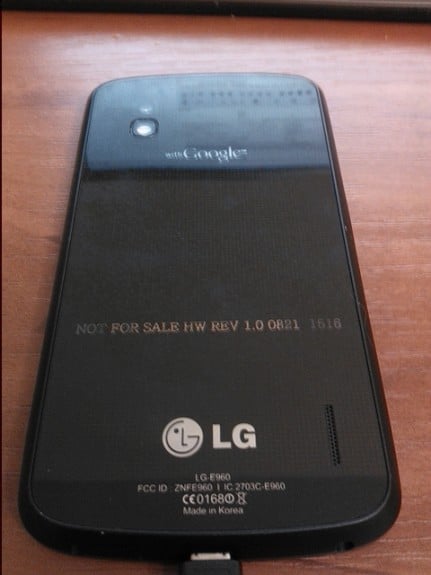 What is clear is that the device will again be made with the familiar plastic, a material that accompanies many Android phones and was the material used with the Galaxy Nexus. For many, this won't be a problem, especially if it keeps the cost down, but for those that were hoping the Nexus 4 would win a design award, it's looking like that won't be the case.
Specs
Apple made numerous improvements with the iPhone 5 hardware. Here is a complete run down of the iPhone 5's specifications.
Apple A6 Dual Core Processor
1GB RAM
16GB/32GB /64GB models
4-inch Retina Display 1136 x 640
Rear – 8-megapixel iSight camera
Front – FaceTime HD camera with 1.2MP photos and HD video (720p)
Bluetooth v 4.0
USB Host unofficially supported
802.11a/b/g/n Wi-Fi  – 802.11n 2.4GHz and 5GHz
In comparison, here is a spec list for the new LG Nexus 4:
Quad-Core ARMv7 1.5GHz
2GB RAM
Memory: 8GB (No microSD card slot)
4.7-inch Display 1280×768
Rear – 8-megapixel camera
Front-facing camera
We assume the new Nexus will have all of the other bells and whistles of a major Android smartphone as well including Bluetooth support. One thing to note is that the Nexus seems to only have a 8GB version though we imagine there likely will be either a 16GB or 32GB option available at launch as well.
Camera
Apple upgraded the rear camera on the iPhone 5. The new iSight camera delivers a fast shutter speed, panorama mode, and is still at the top of the smartphone pile when it comes to quality of photos. A photo taken with the iPhone 5's camera can be seen below.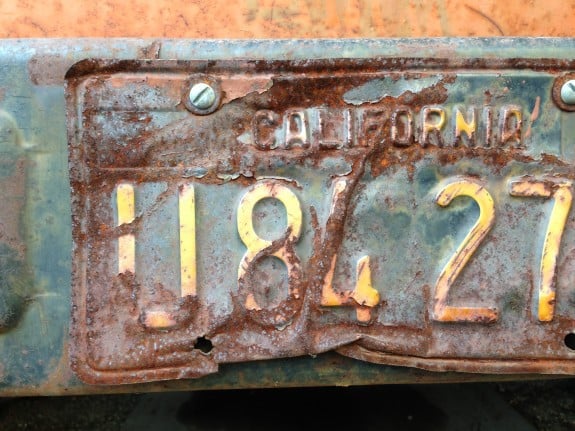 In addition, Apple included a new HD FaceTime camera on the front of the iPhone 5 which means video chatting inside and outside will be much more crisp than it was with the iPhone 4S.
Google's new Nexus phone will apparently sport a 8MP camera like its predecessor and it too will likely be backed up by a host of software functions found within Android already. The ability to take panoramic photos is included.
Nexus phones have never been known for their cameras though and there is no reason to suspect that Google and LG will outdo the iPhone 5 with the camera on the Nexus 4. Below is a photo sample taken with the Nexus 4 and while it might be better than the average photos taken with the Galaxy Nexus' camera, it doesn't appear to be any better than photos taken with the iPhone 5.
Software
Apple's iPhone 5 runs the company's new iOS 6 operating system which brings 200 new features over iOS 5. Key additions include Apple's new Maps application which has replaced Google Maps as the native Maps application. Thus far, the service has received tons of complaints but a Google Maps iOS app is in the works and iPhone 5 users can still access the Google Maps web app if need be.
Apple also improved features like Siri, added Facebook integration, FaceTime over Cellular and a host of smaller features. Many of those features can be seen in the video below.
The iPhone 5, unlike many Android phones, will be updated with yearly major iOS updates for years to come which means that owners don't have to fret about not receiving major updates.
The LG Nexus 4 will likely be running a version of Android Jelly Bean, possibly Android 4.2. We aren't sure exactly what the software entails but we do know that Jelly Bean, is far and away, Google's finest operating system yet.
Some of its key features can be seen in the video below.
That's not all though. Because this is a Nexus smartphone, Android updates will come much quicker than they do to the average Android smartphone. For instance right now, all of the Nexus devices in the U.S. are upgraded to Jelly Bean while non-Nexus devices are lagging behind in adoption.
And, in addition, the Nexus 4 will come with an unlocked bootloader. This means that users will be able to install custom ROMs which will bring Android software to the device long before its made official. This kind of customization is one of the benefits of Android which is an open operating system.
Apple's iOS 6, which is a closed operating system, is a little trickier to customize but can be done using a technique known as jailbreaking.
Carriers
The iPhone 5 is currently home to a multitude of carriers in the United States. AT&T, Sprint and Verizon all launched the phone on September 21st, with several other carriers like Cricket Wireless, nTelos Wireless, C-Spire Wireless and more launching the phone shortly afterward. The iPhone 5 is also rumored to be heading to Virgin Mobile at some point in the future.
Unlike previous iPhone 5 models, the device runs on 4G LTE networks which means that it is capable of pulling down data speeds of up to 10 times faster than those found on typical 3G networks. In addition, the AT&T model is able to run on the carrier's "4G" HSPA+ network when 4G LTE is not found.
All carriers are not created equal however. Verizon just announced 4G LTE in 400 markets, which is far more than Sprint's 24 4G LTE markets and AT&T's 77 4G LTE markets.
As for the new Nexus phone, we're still not exactly sure what kind of connectivity it will have. Last year, the Galaxy Nexus featured both HSPA+ and 4G LTE with support for both Sprint and Verizon.
We imagine the same might happen this time around though this far, we haven't heard any specifics about carriers other then French carrier SFR.
Price
The iPhone 5 currently is priced exactly the same at the three major U.S carriers and it will likely remain that way throughout the duration of its shelf life. Here is how the pricing breaks down for the iPhone 5.
iPhone 16GB – $199.99 on-contract
iPhone 32GB – $299.99 on-contract
iPhone 64GB – $399.99 on-contract
Apple will also sell the iPhone 5 off-contract though we still don't know when it will do so. The pricing of the unlocked iPhone 5 will be as follows though:
iPhone 16GB – $649.99 off-contract
iPhone 32GB – $749.99 off-contract
iPhone 64GB – $849.99 off-contract
Google has yet to reveal the pricing of the Nexus 4 but with a plastic design, limited storage space and no microSD card slot, we imagine that Google will keep the price of the new Nexus low.
Currently, the company sells the Galaxy Nexus 16GB unlocked for $349 through its Google Play Store. We imagine that the price of the new Nexus smartphone will either mirror that or check in lower. An 8GB model, if that's the only option, would likely be much lower.

As an Amazon Associate I earn from qualifying purchases.