New Nexus Release Date, Specs, News and Rumors
In recent weeks, the Samsung Galaxy Note 2, Motorola Droid RAZR HD and RAZR MAXX HD and the HTC One X+ have all been announced for release later this year. However, there is another major Android launch looming on the horizon, which of course is Google's yearly Nexus smartphone release.
For the past two years, Google has released a smartphone with the Nexus name. The first, the Nexus One, was made by HTC and was released in 2010. The Nexus S and Nexus S 4G, made by Samsung, followed later in 2010 and a year after that, the Samsung Galaxy Nexus was born.
And this year, now that Apple has brought an iPhone 5 with a larger screen and 4G LTE data speeds to the table, the stakes are high and Android enthusiasts are extremely interested to see what Google has in store.
Read: New Nexus May Launch in October with Android 4.2.
Exactly what Google has planned for the Nexus this time around is still very much hidden away in the shadows, but we do have bits and pieces of information and some seem to be very credible.
Read on to find out what we think we know about Google's new Nexus smartphone.
New Nexus Launch Date
As of yet, Google hasn't confirmed anything in terms of the new Nexus launch date. However, a rumor from Android and Me suggests that the next Nexus will be announced within the next 30 days. That means sometime this month, possibly at the end the month at the All Things D: Dive Into Mobile conference.
The conference kicks off on October 29th and there are several hints that suggest the event could be the launching pad for the new Nexus or Nexus'.
Back in 2012, Andy Rubin announced the Motorola Xoom and Android 3.0 Honeycomb at the All Things D conference and Rubin will again be in action this year.
Another clue is that the Galaxy Nexus was also announced in October and we could see Google follow a similar pattern this time around.
New Nexus Release Date
The new Nexus release date is currently unknown. However, if it is indeed released without a U.S. carrier as the current rumor suggests, we could see it launch shortly after its rumored October 29th launch date.
The Galaxy Nexus didn't launch on Verizon until December, two months after its initial announcement. But if the device isn't attached to a specific carrier, Google will likely be at liberty to launch it sooner.
If it does launch October 29th and it launches unlocked, look for a release date to arrive soon afterward.
New Nexus Design
Earlier rumors suggest that Google might have as many as five Nexus smartphones in the works with names such as Samsung Galaxy Nexus 2, Sony Xperia Nexus and LG Optimus Nexus. And while the Galaxy Nexus 2 appears to be a real device, it's looking more and more like the new Nexus could actually be based on LG's Optimus G which was announced last month.
At the very least, LG is heavily rumored to be making at least one of the new Nexus smartphones, if there are indeed multiple Nexus devices headed to virtual shelves later this year.
Assuming that the phone is based on the LG Optimus G, it could look very similar to this mockup below of an LG Optimus Nexus.
The phone features a design that is a cross between the company's Prada and Chocolate phone designs.
New Nexus Display
The display of the new Nexus, again if it's based off of the LG Optimus G, will be a 4.7-inch True HD IPS Plus display with a resolution of 1280 X 768 pixels which will likely display a vanilla version of Android.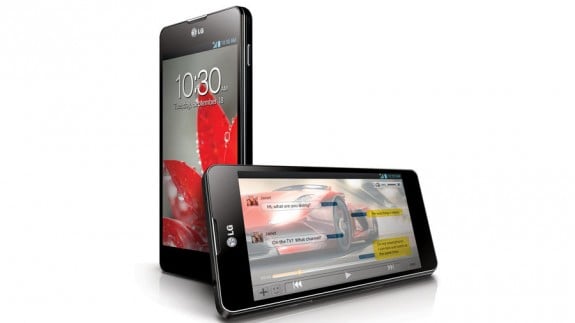 if true, it would also feature a 15:9 aspect ratio which is close enough to 16:9 and offers widescreen viewing on the device's display. The iPhone 5 recently launched with a 16:9 aspect ratio which minimizes the presence of the black bars when viewing content.
New Nexus Specs
Assuming the new Nexus is indeed based on the Optimus G, other specifications should include Qualcomm's Snapdragon S4 Pro processor, 2 GB RAM, a sealed battery, non-removable memory, 32 GB built-in storage, and NFC support which will work in conjunction with Google Wallet.
We've also heard that one of the selling points of the new Nexus will be a new version of Android, Android 4.2 Jelly Bean, which won't be a full-fledged new version of Android, but will instead be incremental.
https://www.youtube.com/watch?feature=player_embedded&v=LMhD9rEkVLY
Android 4.2 is rumored to include some new features including enhanced Maps and camera features as well as multi-user logins. So it won't be a massive improvement over Jelly Bean but it certainly will offer some nifty upgrades.
As for connectivity, it's possible that it will come with 2G, 3G and LTE support though again, it will likely be unattached to a certain carrier and will likely arrive unbranded and unlocked.
Sprint and Verizon carried the previous Nexus so if there are carriers involved, they might be on board.
New Nexus Price
Currently, Google sells its Galaxy Nexus through its home page for $350. If the new Nexus is indeed unlocked and without carriers, Google will likely sell the phone through its website as well, maybe for as low as $350.
It can't charge a premium for 4G LTE any longer now that Apple has unleashed it on its iPhone 5 and now that Windows Phone devices feature the technology as well.
So it's possible that Google might try and attract customers not only through its features but through its price.
No word on pricing yet though.
Other Possibilities
This is just one fork of the rumor. Again, we've also heard that Google might be cooking up multiple Nexus smartphones. It's entirely possible that that is the case. However, because the rumor mill has been extremely quiet, it's looking more and more unlikely.
More likely is a Nexus based on the Optimus G and quite possibly some other Nexus-branded devices as well. There are whispers about a Nexus 7 with cellular data and it may join the new Nexus smartphone on stage later on this month.
—
Anyone interested in a Nexus made by LG?