New Nook Color Poised for November 7th Launch
There had been some whispering about a November 7th Barnes and Noble event where the company would show off its latest and greatest hardware and sure enough, the company has begun sending out invites for some sort of Nook related breakfast that will take place in New York City on November 7th.
And while the invitation doesn't explicitly say what the announcement is about, that Nook logo that is sitting front and center tells us quite a bit.
B&N is likely going to take the wraps off of its brand new Nook Color, possibly called the Nook Color 2, a device that will be put into direct competition with Amazon's Kindle Fire tablet.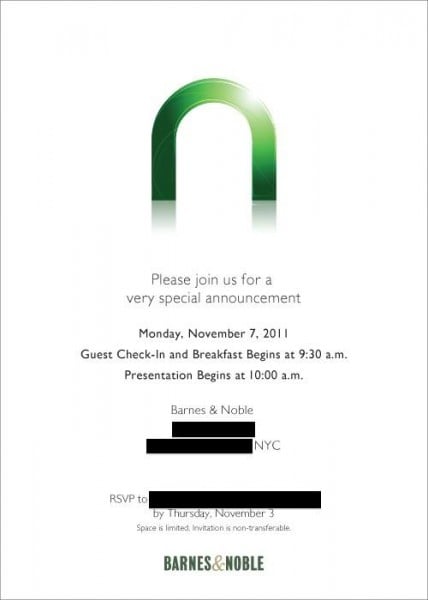 (Read: Kindle Fire vs. Nook Color)
Very few details are known about the Nook Color 2 at this point though.
We have heard that it will have Android 2.3 Gingerbread, a 1.2 GHz OMAP processor, and a $250 price point. The Wall Street Journal is saying that it's going to differ significantly from the original Nook but in what way is unclear.
Expect clarity on November 7th.
Via: AllThingsD

As an Amazon Associate I earn from qualifying purchases.