New Snapchat Update Teased: Audio, Video & Stickers
The next Snapchat update could be one of the biggest yet with new audio messaging and video messaging features that would put Snapchat into the same sphere as Facebook Messenger.
Last week we learned that there are references to new audio and video chat features in the latest small Snapchat update for Android. The user who discovered these changes was able to dig deeper and with the help of another developer pull together screenshots showing what the first major Snapchat update of 2016 may look like, and what the features may offer to users.
We've seen Snapchat updates deliver major new features like Lenses that allow users to change their face and new filter options that make it possible to speed up or slow down your Snaps during a busy 2015.
So far the 2016 Snapchat updates delivered small fixes to the service, but it looks like we are about to see a huge Snapchat update that delivers new features. This is what you need to know about the Snapchat update that may deliver Chatv2.
Chatv2 Snapchat Update Release Date
This looks like a major update to Snapchat, and the leaked files did not include a simple on switch that would indicate this is part of the next Snapchat update.
So far there is no Chatv2 Snapchat update release date timing. The Snapchat blog and Twitter account did not mention anything about this leaked update yet or the new features.
The odds are good that you will see another January Snapchat update and perhaps even a February Snapchat update before these new features roll out.
Chatv2 Snapchat Update Features
On Friday MaaarZ and stirante looked into the Snapchat Update 9.21.10 and discovered code that outed potential new features including audio notes in chat as well as video and audio calls.
Their conclusion from the code is that, "video and audio calls are coming to Snapchat."
This is an important addition to Snapchat as the company looks towards continued growth. The WhatsApp free update and the features built-in to Facebook Messenger make it clear that the competition is enabling instant communication. Now it looks like a forthcoming Snapchat update will open up new lines of communication.
In the screenshots shared from further exploration we even see what appears to be Stickers that look very much like those on Facebook Messenger.
Chatv2 Snapchat Update Screenshots
With additional work, a team of users including Snapprefs, Mészáros Marcell, Piotr Brzozowski, Jani Andsten managed to bring the new features to life and share seven screenshots that show what the new Snapchat update looks like, in the current state.
The team shares the following findings about what could be in the new Snapchat update, "While experimenting with it, we noticed how the chat-presence alert has been changed from showing a blue botton to showing a smiley face, which turns into a blue dot. Also, when someone is listening to you a blue text comes up saying that "XYZ is listening/watching"."
The Stickers only show up on Android Marshmallow, but the team did not have the ability to test on an Android Lollipop.
At this point it is not clear when this Snapchat update will arrive, but the features do look like more than a small team testing something internally.
How to Use New Snapchat Lenses
Scream Snapchat Lens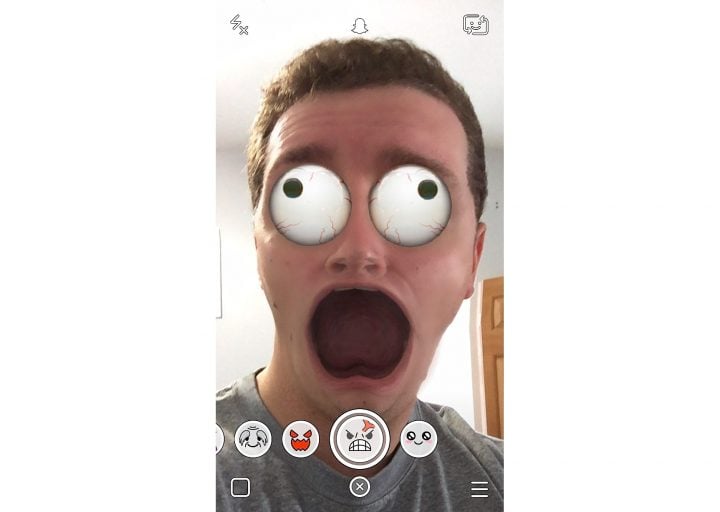 Use the Scream Snapchat Lenses option to make your eyes pop and your mouth go wide. Activate by opening your mouth. Move your head slightly to exxagerate the effect.
When you open your mouth the phone will make a scream, so keep that in mind while recording.

As an Amazon Associate I earn from qualifying purchases.