How to get New Spotify Features Right Now
Subscribers who want to try the new Spotify features right now need to follow simple instructions to opt into the new playlists, videos and Spotify running. The new Spotify update delivers a massive upgrade that changes the look of the app and adds several fantastic features that Spotify subscribers don't need to wait to test.
With Spotify Now and Spotify Running, this is the new essential music app for iPhone owners who want to find the right music to listen to right now. With Spotify Running, the iPhone will adjust the tempo of the music to your pace with playlists and with special originals designed just for running.
Read: Spotify Tips & Tricks
Here's what you need to do to get the new Spotify features right now and more details on what Spotify offers.
Spotify calls this the Spotify Now experience and it is available today to users in the US, UK, Germany and Sweden. Spotify Running is available to iPhone users globally starting today. If you don't see these options here is how to turn them on. Spotify Now and Spotify Running for Android are not available at this time, and there is no timeline for an Android release.
How to Get Spotify Now and Spotify Running
Make sure that you are on the latest version of Spotify for iPhone. To do this, open the App Store, tap on Updates and if you see Spotify tap on update.
Once this is installed, open Spotify on your iPhone. Go to Settings and then you should see a small pop up like the above screenshot inviting you to try new Spotify features. Tap on Show Me the New Stuff.
Spotify will show you a slideshow of the new Spotify features. Once you opt in you will gain access to Spotify Now, Spotify Running and Spotify shows.
What is Spotify Now?
https://youtu.be/sMGwPYGPEJs
Spotify Now is a new Spotify start page on the iPhone that shows you playlists that match the current time of day and potential activities. You can change the time of day or activity from Workday to Commute or another activity/time combination with a toggle at the top of the app.
Swiping to the right or left will switch to playlists that cover a variety of musical genres and moods. Tap on a playlist to see the rest of the songs and to save it for later. Some playlists include just 10 tracks while others will last hours. When you swipe between playlists the app remembers the location.
What is Spotify Running?
https://youtu.be/0fZBqV_yMq4
Spotify Running is a new feature that matches the music to your pace by delivering a faster tempo when you start running harder and faster. Spotify detects your tempo when you start running with the iPhone and transitions to higher or lower beats per minute as your pace changes.
Choose from genre-based playlists or originals that include a variety of artists and settings to motivate you while you run. Here's a look at the current Spotify Running Originals lineup.
Running Originals – music specifically designed for running that dynamically adapts to your running tempo. A total of six original tracks, all found within Spotify Running, are available at launch. We're also introducing a range of exclusive content, from Dance Move of the Day produced by Amy Poehler's Smart Girls brand, to specially curated radio shows presented by artists including Icona Pop, Jungle and Tyler the Creator
Spotify includes these playlists with the Running feature and will start as you begin to run.
Spotify also includes news and entertainment options that you can listen to including, "ABC, BBC, Comedy Central, Condé Nast Entertainment, ESPN, Fusion, Maker Studios, NBC, TED, and Vice Media."
11 Best Weight Loss Apps in 2020
Lose it Weight Loss App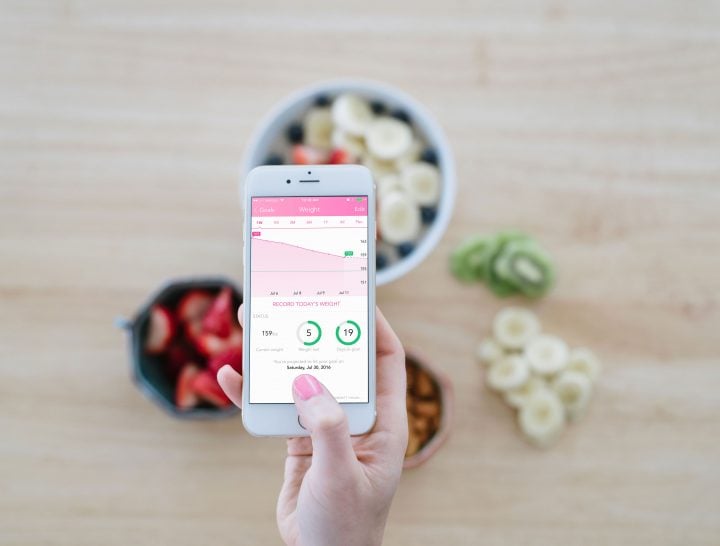 Lose It is a free weight loss app for iPhone and Android that helps you achieve sustainable healthy weight loss. This tool includes an app as well as a website so you can see your information on your computer as well.
You can connect to people, your various devices and food information that will help you lose weight with smart decisions. Lose It helps you create a personalized weight loss plan with goals that include a goal weight as well as total wellness and fitness.
The app includes access to a verified food database that helps you track your calories with easy searching, or add custom foods and you can share recipes. You can also scan a UPC to add food.
Lose It connects to other apps like RunKeeper, Nike+ and a variety of devices and scales to help you track all of your fitness data easily and intelligently. You can create goals with a group of friends, challenge friends or yourself and get support from the group to stay on track.

Lose It is free, with a $39.99 premium option that includes much more tracking, meal planning and other upgrades.