New Video Highlights Major FIFA 16 Features
A new FIFA 16 video shows off the new FIFA 16 features that span from offense, to the midfield and on to defense with key upgrades that EA claims will innovate gameplay. The new features include help from Lionel Messi through motion capture and many other changes to the gameplay.
Take a closer look at our FIFA 16 features deep dive to see what's new in FIFA 16, and watch the video below to see the new FIFA 16 features in action. This is our best look at what's new in FIFA 16 so far, as earlier videos did not showcase the features to this level.
The FIFA 16 release date is September 22nd in the U.S. and gamers can play early on Xbox One with EA Access. We expect a FIFA 16 demo in early September that will allow gamers to try the new FIFA 16 features out on their own.
In the video above gamers can see the new FIFA 16 features, as part of the FIFA 16 Gameplay innovations breakdown that covers offensive and defensive upgrades to the game.
[contextly_sidebar id="s1tUt72j5mx3Zow0WmVsgrlfFaGD4Pan"]This new FIFA 16 video mixes gameplay, cinematic and behind the scenes commentary to highlight what's new in FIFA 16 for 2015. The new FIFA 16 video shows off these new features and gives a teaser of what to expect this fall.
Defensive Agility – FIFA 16 includes over 25 changes to the 1 v 1 experience that will let defenders move with more realism and track tougher defenders better.
New Tackles – When you need to steal the ball fake tackles, air tackles and the ability to come out of a slide tackle to stay in the game are essential upgrades in the new FIFA game.
Better AI – Team mates will recognize holes in coverage and move to fill them better than in FIFA 15 and earlier games.
Smarter Goalkeepers – In FIFA 15 EA delivered goalkeeper upgrades, but many players argued that it wasn't enough. The new FIFA 16 video boasts that EA doubled down to improved goalkeeper performance in FIFA 16.
Interception Intelligence –  The video highlights a new FIFA 16 feature that will allow your AI controlled team mates to intercept passes in the midfield like never before. If this works you won't ned to switch players every two seconds to be a one man team.
Passing with Purpose – We get a better look at the new passing mechanics in FIFA 16 that allows players to deliver more focused passes that find their mark and match the speed of the mark as well.
Dynamic Crossing – Double and triple tap crosses rip balls behind the line and if you can get enough space you can curve the ball.
No Touch Dribbling – Motion capture of Lionel Messi helped the team bring to touch dribbling to FIFA 16 so you can decide when to touch the ball and when to leave it to fake out the opponent.
Clinical Finishing – Better looking goals, realistic touches and more skill needed to hit the perfect shot for a one touch goal.
We are already seeing some FIFA 16 deals that allow gamers to get the game for as low as $38 with Gamers Club Unlocked and $49.99 without Gamers Club Unlocked. Gamers Club Unlocked is a $30 membership that includes 20% off new games.
FIFA 16 arrives on PS4, Xbox One, PC, PS3 and Xbox 360. If it is like the FIFA 15 release, not all the new FIFA 16 features will arrive on the PS3 and Xbox 360.
FIFA 16: 5 New Details Gamers Need to Know
FIFA 16 Gameplay Trailer at E3 2015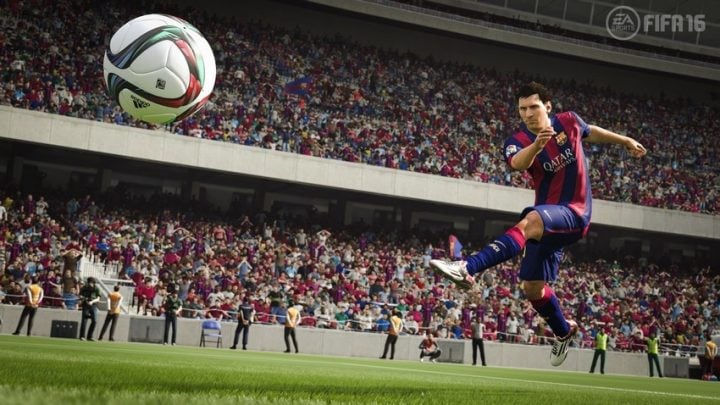 Watch the official FIFA 16 gameplay trailer from E3 2015 to see Pelé talk about the "Beautiful Game" and to see some of the new FIFA 16 features in action.
EA shows off an array of new defensive maneuvers, offensive strikes and other enhancements to the game. The FIFA 16 gameplay is on the PS4, but you can expect similar graphics and features on Xbox One and PC.
On EA's FIFA 16 website the company notes that not all the features are available on all platforms, so you will see more information on how FIFA 16 for Xbox One compares to FIFA 16 on Xbox 360 or PS4 vs PS3 in the near future.

As an Amazon Associate I earn from qualifying purchases.