New Year's Resolutions – iPhone and Android Apps To Help You Quit Smoking or Drinking
Did you make a New Years Resolution to quit smoking or drinking? It's pretty hard to break such strong habits, though there are strategies you can use to help. Let your tech play a role in getting support, motivation and reminders that you wanted to sober up or kick the habit. We found some apps that may help.
Understand that we're not giving out medical or psychological advice and we think that you should always consult your doctor or therapist in dealing with these kinds of issue. The following apps may be good supplements to professional help from a trained medical, psychological or spiritual professional who knows how to get people on the right track.
[See other GottaBeMobile New Years Resolution Posts]
General Help With a New Years Resolution
One web app comes from MeYou Health and promises to help you out by making a resolution to actually make an "anti-resolution." Instead of making a personal commitment to change a habit, this site hopes to supply the tools to help you change your attitudes and behaviors behind self-destructive behavior.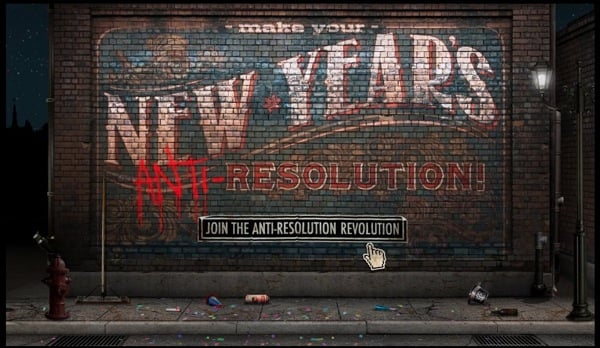 The site is a series of click-through slides dealing with the habits you wish to change. You will make your way to a site that offers to help with five basic resolutions:
Save Money
Quit Smoking
Lose Weight
Manage & Reduce Stress
More Family Time
Once you click one of the above, it provides strategies to make your commitment lasting. The approach in the Quit Smoking section seems to be primarily behavioral modification, a trick counselors use to get you to change one bad habit with another less destructive or even potentially positive one. When you have an urge for a cigarette, eat a carrot.
Once you choose your behavioral modification, it offers to let you share it on either Facebook or Twitter, since making such a commitment public reinforces it. Maybe your friends or followers will help by reminding you of the commitment. You also can sign up for a daily email message to remind you of the promise.
In case you worry that such a site might be put up by quacks, they do have a professional advisor. Dr. Nate Cobb suggests that users of the site should work on one habit at a time if they want to be successful. One exception might be with behaviors that could be linked, like drinking and smoking while visiting bars.
Source: Laptop Mag
Quit Smoking
For smokers, your smartphone may be your best ally in kicking the nasty habit. Here are a few apps for dealing with your nicotine addiction.
Quitter – Free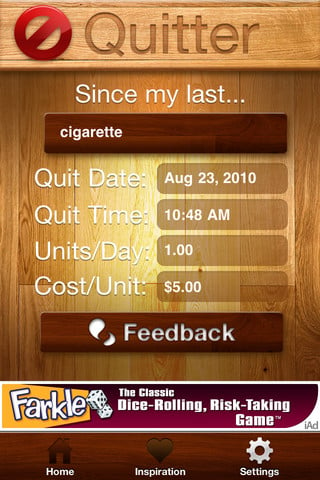 Quitter motivates you by reminding you of two key data points – how long you've been a quitter and how much money you've saved yourself. Enter your start date and how many cigarettes you usually consumer in a day's time. Then enter the cost per pack and Quitter uses the notifications built into iOS to tell you how well you're doing.
Ciggie – Free
Ciggie for Android is similar to Quitter and aims to make you more conscious of your smoking habits. It will probably work best for those trying to step down gradually as it focuses on counting cigarettes and intervals between puffs. The tar inhaled/life shorted stat serves as a motivator to stop.
LIVESTRONG MyQuit Coach – Dare to Quit Smoking – Free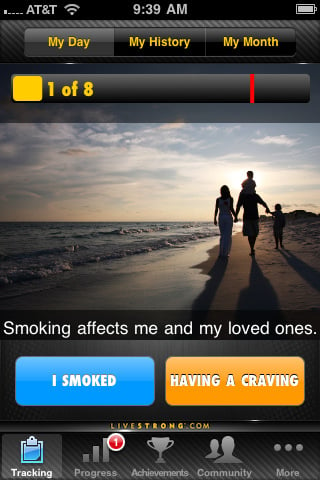 The LIVESTRONG MyQuit Coach app sets up a plan tailored to you and your needs that will help you stop smoking. The app calls itself "physician approved" and lets you determine how fast you hope to stop. You can ease yourself away from nicotine or go cold-turkey. The app uses motivational things like pictures, tips and progress charts to help keep you focused. The app also includes ever popular approach of badges. You can also get help via your Facebook and Twitter friends/followers.
Quit Smoking Now with Max Kirsten – $6.99
With some of the highest ratings of these apps, the Quit Smoking Now app costs the most too. It has a nice into video that explains the process. You go through a 'getting started session' to help you begin the process and get the most out of the app.
The app primarily offers information Max Kirsten who claims to be a "renowned and highly qualified clinical hypnotherapist" and someone who helps the rich and famous get off nicotine. The content comes from his books and website. The program followed came from Kirsten and the app supports the program.
Source: Cult of Mac
Quit Drinking
Some people need to just slow down when it comes to alcohol, but many of those people, if they were honest, would have to admit that they're really alcoholics. You can get help through your iPhone and the following apps.
12 Steps AA Companion – $2.99 iOS, $1.99 Android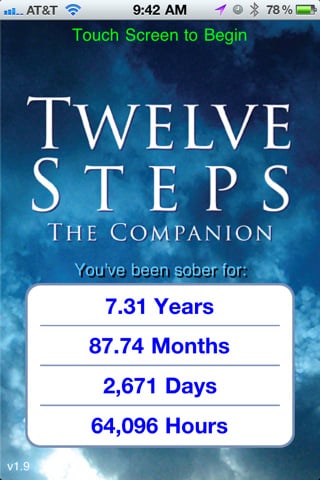 Alcoholics Anonymous may be the best known program for people how have a drinking problem. If you're in AA the Twelve Steps app [iOS; Android] can help you keep with the program. The app icon itself doesn't reference AA or anything else that would look like an app for alcoholics. When opened, it offers motivation through reading, reminding you how long you've been sober, and contact information for those you are working with to keep sober.
Joe & Charley (Alcoholics Anonymous) – $2.99
This app primarily offers the AA Big Book but has the highest ratings for the way it presents the content of the "The Big Book Study" from popular AA meeting organizers Joe McQ and Charlie P. You get the info and the audio of the tapes from their meeting.
OneRecovery OnTheGo – Free
OneRecovery OnTheGo not only helps people recovering from alcoholism but other chemical dependencies and eating disorders. You select your need and it provides you with support by not only calculating how long you've been clean and/or sober, but locations for meetings if you need assistance. This can be great if you're traveling and struggling with your urge for a drink or drugs. Find a meeting to get some help staying sober. You also get access to the online community.

As an Amazon Associate I earn from qualifying purchases.