Next-Generation Samsung S Pen Promises Even More Features for Galaxy Note
The Samsung S Pen, which is a digitizer that works on the company's Galaxy Note line of tablets and debuted on the 5.3-inch Galaxy Note phablet, may be gaining additional functionality and features. According to a patent application filed by the South Korean Android and Galaxy manufacturer, the new S Pen holder will add voice capabilities thanks to volume controls and a built-in microphone, NFC support, and a conductive grip.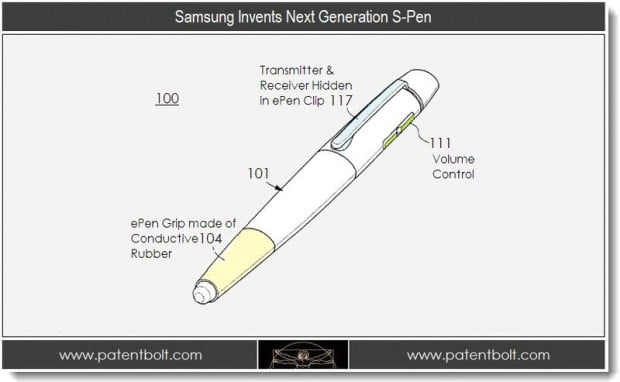 The volume control and transmitter/receiver microphone built into the top of the S Pen holder would give Samsung's digitizer similar functionality as the capacitive touchscreen stylus that Asus has implemented on the Eee Pad Memo and the PadFone, which would allow users to receive calls using the stylus as a handset, much like holding a home telephone to your ear where the tablet would serve as the base station. Presumably, the built-in NFC functionality would make it easy for users to pair the pen to the tablet or phone.
Additionally, the ergonomic rubber grip that surrounds the tip portion of the S Pen holder will have a a capacitive touch element that will be sent down to the tip of the pen. In this way, users can use the S Pen like a capacitive touch stylus or their fingers and not have to use the digitizer function. This would make it easy to just navigate the Android operating system as it'd similar to tapping, swiping, and long-pressing on items much like how users would use their fingers to maneuver. Additionally, by using the capacitive rather than the digitizer layer on the touchscreen, lags would be avoided and this would lead to a better user experience.
It's unclear when Samsung intends to debut the next-generation S Pen holder–it could potentially debut alongside the Galaxy Note 10.1, which is rumored to be coming soon. Another debut potential would be with alongside the Galaxy Note 2.
The accessory patent that PatentBolt is reporting would probably be an accessory to the S Pen. This would be a holder to the S Pen where the traditional S Pen would fit inside, much like how an ink cartridge refill would fit inside a ballpoint pen. The regular S Pen would still need to maintain a slimmer profile so that it could still fit inside the tablet or phone when note in use and would allow users to carry that pen with them. This added accessory would add functionality, features, and ergonomics.

This article may contain affiliate links. Click here for more details.