Next iPhone Capacitive Touchscreen Could be Compatible with Glove-Wearing Users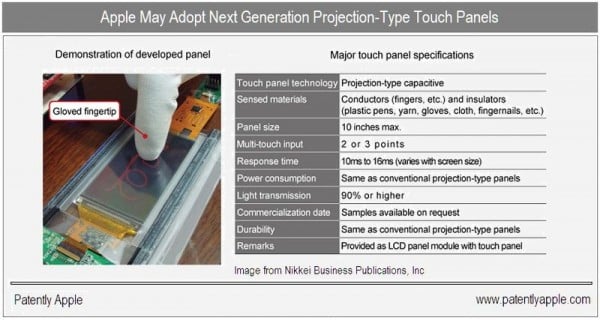 Apple's next-generation iPhone could utilize a touchscreen display from Hitachi Displays that will work with gloves and other insulators, meaning non-conductive surfaces, in addition to fingertips. The problem with the current generation iPhone is that it requires finger contact, and won't work with gloves–for users in colder environments, stylus or pens, and other materials, but the Hitachi Display, which comes in 3 to 10 inches in size, can be made to work beyond your fingertips. The Hitachi touchscreen panel will still utilize the finger-friendly capacitive touchscreen technology, and could also potentially bring the best of resistive and capacitive touchscreen technologies to the iPhone.
For resistive technology advantages, Hitachi's display will offer support for plastic pens, also known as stylus, and can bring the possibility of better inking and handwriting to the iPhone. This could revive handwriting and note taking, especially on the larger screen iPad. Additionally, with the HP Slate supporting an active digitizer for handwriting and drawing input, having pen support on the iPad could make the device more competitive in the enterprise segment where either signatures are captures, drawings and illustrations could be made quickly, or a quick note could be jotted. And unlike more expensive active digitizer pens, a plastic stylus would be a lot cheaper.
While the screens could potentially hit iOS devices, I don't see why the screens wouldn't be implemented on other operating systems, such as HP Palm's webOS, Microsoft's Windows Phone 7 to bring back legacy resistive touch support and inking capabilities from Windows Mobile, and on Google's Android platform.
The nice part is that multitouch is still supported and fingertips and fingernails can now be used on the touchscreen display, along with fabric and leather gloves, yarns and plastic pens, and other insulators.
Source: Patently Apple