Next Issue for Android is Netflix for Magazines
Next Issue for Android is aiming to take on Apple's Newstand. The app and accompanying service will be a subscription service for magazines, but in a different way than what has been done on Apple's a la carte service. What Next Issue does is bring a $9 subscription fee per month to users, giving them unlimited access to the company's catalog of magazines for on-demand reading. That means that rather than buying each individual issue a la carte or subscribing to a variety of different magazines, you have access to the company's entire digital library of magazines for a simple recurring monthly fee.
https://youtu.be/sk079o_2FHo
The model is similar to what Netflix does for movies. Best of all, many of the magazines has been optimized for the digital experience, coming with unique features that are not available or found for print, including enhancements with multimedia content such as videos.
The app itself is available for free right now on Google Play.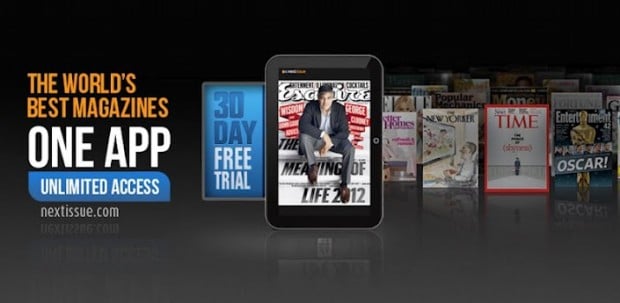 Here is a list of the magazines that are available with Next Issue at this time:
All You, Allure, Better Homes and Gardens (10" only), Car and Driver (10" only), Coastal Living, Conde Nast Traveler, Cooking Light, ELLE (10" only), Entertainment Weekly, Esquire, Essence, Fitness, Fortune, Glamour, Golf Magazine, Health, InStyle, Money, Parents, People, People en Espanol, People Style Watch, Popular Mechanics, Real Simple, Southern Living, Sports Illustrated, Sports Illustrated Kids, Sunset, The New Yorker (7" only), This Old House, TIME and Vanity Fair.
You should note that some of the magazine titles–such as Better Homes and Gardens and Car and Driver–are only available for 10-inch Android slates while others such as The New Yorker are only available for 7-inch tablets only. Many of the titles, however, are available across all tablet sizes. Hopefully some of those restrictions will go away in the future so users of any tablet size can have across to every title available on Next Issue's catalog.