Two of the Android heavyweights that will be competing this holiday shopping season are the Nexus 4, which is Google's latest Nexus smartphone, and the HTC Droid DNA which is Verizon's latest addition to the Droid family. Here, we compare the LG-made Nexus 4 to the Droid DNA in an attempt to help the decision of those looking for a new smartphone a much easier one.
In October, Google finally took the wraps off its latest Nexus smartphone, the Nexus 4. The Nexus 4, which is LG's first Nexus device, replaces the Samsung Galaxy Nexus as the company's current operating system. And as shown by the device's quick sell out, it's clear that it's going to be a contender among the Android heavyweights this holiday shopping season.
Read: Samsung Galaxy Note 2 vs. Droid DNA.
The Droid DNA on the other hand is going to be meshing some powerful hardware inside a design that fans of the Droid Incredible and EVO series will recognize. And while it's main competition will be the Samsung Galaxy Note 2, those looking at new smartphones in the coming days will surely run into both the Droid DNA and the Nexus from LG and Google.
So how do they match up against each other in terms of hardware, software, price, release date and more? The answer to those questions and more are answered in our Nexus 4 versus the Droid DNA for Verizon.
Release Date
The Nexus 4 has the benefit of coming in two different versions. One, an unlocked model that can be used with either AT&T or T-Mobile and another that is carrier locked to T-Mobile USA's network.
Both devices were both released by Google earlier this week though the unlocked Nexus 4 is on back order and likely won't arrive to many who ordered for three weeks. The device is not available to buy through Google's website which means that those looking to get it for the holiday could be out of luck.
Read: Nexus 4 Shipping Halted, Backorder Emails Sent.
As for the T-Mobile version, it's available through T-Mobile's website and likely won't be going anywhere anytime soon.
The Droid DNA's release date is confirmed for November 21st and Verizon is currently taking pre-orders for the device through its website. Once November 21st arrives, customers will be able to pick up a Droid DNA through Verizon's website or find one in stores. We imagine that the device will also become available through third-party retailers like Best Buy as well.
Design
Google and LG have released a new Nexus in the Nexus 4 that keeps a similar design to the previous version of the Nexus smartphone. Those familiar with the Galaxy Nexus will certainly notice some similarities. However, there are also quite a few differences.
The Nexus 4 is made of plastic, the Nexus 4 also features a glass-backing that should prove to be adept at protecting the back of the phone from any kind of harm.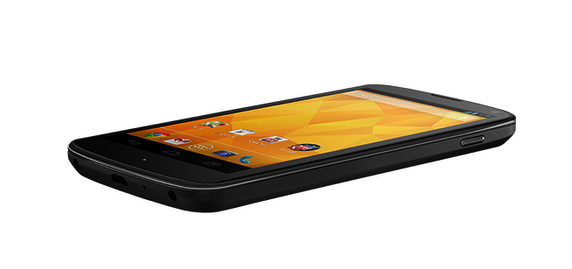 It weighs 139 grams, which is lighter than the Galaxy Nexus LTE, but is actually heavier than the HSPA+ Galaxy Nexus which weighed 135 grams. The Nexus 4 is 9.1mm thin which is thinner than the Galaxy Nexus LTE but again, thicker than the HSPA+ version of the Galaxy Nexus which was a mere 8.9mm thin. It does not, however, have the same hump as the Galaxy Nexus.
With the Droid DNA, HTC clearly took from several of its older devices including the HTC EVO 4G LTE and the Droid Incredible. The back of the Droid DNA features a backing reminiscent of the Droid Incredible series while the soft keys at the bottom hark back to the HTC EVO 4G LTE, another device that was released for Sprint's 4G LTE network earlier this year.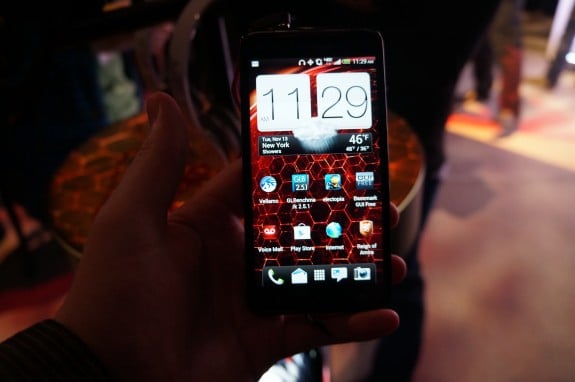 As for specifics, the Droid DNA will measure in at 141 x 70.5 x 9.73 mm which means that it's thicker than the Nexus 4. it weighs 138 grams which is almost the same as the Nexus 4 so there shouldn't be a big difference in weight.
Display
While the Nexus 4 may be cheap, it doesn't mean that Google skimped on the display. Like many Android phones, the Nexus 4 also features a massive high-definition IPS display that checks in at 4.7-inches in size.
It features 1280 x 768 pixel resolution which means that content like movies and television shows will be in HD. It also features 320ppi, or pixels-per-inch which means clear, easy-to-read text.
One of the more intriguing specs on the Droid DNA is its full HD 1080p display, the first smartphone in the United States that will take advantage of such technology. This means that it will offer high-quality video, text and images.
And with a 440 pixels-per-inch count, text should look crisp and vibrant to the reader.
Specs
Now that we've discussed the design and the display differences, let's take a closer look at the rest of the specifications and their differences. Starting with the Nexus 4 which, for a cheap smartphone, boasts some impressive features.
Here is what makes up the Nexus 4.
4.7-inch IPS Display 1280 x 768 pixel resolution (320 ppi)
1.5GHz Quad-Core Snapdragon S4 Pro Processor
8GB/16GB Storage (No microSD card slot)
8MP Camera/1.9MP Camera
2100 mAh battery (Non-Removable)
2GB of RAM
NFC
And the Droid DNA.
5-inch LCD-3 Full HD 1080p Display
1.5GHz Quad-core Qualcomm Snapdragon S4 Pro Processor
16GB Storage (No microSD card slot)
8MP Camera/2.1MP Camera
2,020 mAh Battery (Non-Removable)
2GB of RAM
NFC
Both feature similar features though consumers will want to note the storage options for the Nexus 4, the Droid DNA only comes in 16GB with no microSD slot, as well as the fact that both feature a non-removable battery.
This means that users won't easily be able to change or replace the batteries that are housed inside these devices.
Camera
The LG Nexus 4 comes with a 8MP rear camera that is pretty standard and shoots pretty good photos. It can also take 1080p video as most cameras on high-end Android smartphones can. It also features a front-facing camera for video chat.
Don't expect either camera to win any awards but they should be good enough for the average smartphone user.
The Droid DNA will offer an 8MP camera in the rear as well though it will come with an ImageSense chip that should help deliver crisp images, likely on par with the HTC One X, and good shutter speeds.
It will also come equipped with a powerful front-facing camera that sports a 88% wider ultra-wide 2.1MP lens that will provide fantastic quality video chats.
Software
Google's Nexus 4 is one of the first devices that runs Google's latest piece of software, Android 4.2 Jelly Bean. Android 4.2 Jelly Bean improves upon the previous version of Android by bringing a feature called Photo Sphere, a new Quick Settings function, a gesture-enhanced keyboard, lock screen widgets and more.
Read: Android 4.2 Jelly Bean: Everything You Need to Know.
Photo Sphere, the software's powerful camera feature, can be seen in the video below.
The Droid DNA won't have Android 4.2 Jelly Bean on board. Instead, it will take advantage of Google's earlier version of Android, Android 4.1 Jelly Bean. Android 4.1 Jelly Bean can be seen in the video below.
Verizon will likely update the Droid DNA with the Android 4.2 Jelly Bean update at some point in the near future though we don't know exactly when it will do so.
Carriers
The Nexus 4, because it's unlocked, will work on GSM networks around the world. So that means that it can run on the HSPA+ networks of AT&T and T-Mobile here in the U.S. HSPA+ isn't as fast as 4G LTE but in the case of T-Mobile, speeds can sometimes be comparable.
Google's Nexus 4 will run on T-Mobile's high-speed HSPA+ 42 network which is as fast as HSPA+ gets. A speed comparison between it and 4G LTE can be seen in the video below.
AT&T's HSPA+ network tops out at HSPA+ 21, which is slower than T-Mobile's network.  The T-Mobile locked version of the Nexus 4 will, of course, run on HSPA+ 42 as well.
The Droid DNA will run on Verizon's high-speed 4G LTE network which is generally faster than HSPA+ networks. 4G LTE networks offer speeds that can reach up to 10 times faster than typical 3G which translates into wielding a Wi-Fi connection in ones' hands.
Verizon's 4G LTE network is also the biggest in the land boasting over 400 markets in the U.S. If 4G LTE hasn't arrived yet, it probably will soon, as Verizon plans to finish its roll out by the middle of 2013.
Price
The Nexus 4 for T-Mobile will be checking in with a familiar $199.99 on-contract price tag. However, the unlocked version is where the Nexus 4 truly shines. Google is offering the device, unlocked, for extremely cheap.
An 8GB Nexus 4 will run consumers $299.99 which is cheaper than just about every high-end unlocked device out there, by comparison Apple will be charging $649 for its unlocked iPhone 5. The 16GB Nexus 4 is just a tad more expensive, checking in with a price tag of $349, same as the Galaxy Nexus was sold for through Google's Play Store.
Verizon and HTC kept the price of the Droid DNA competitive as well. Verizon will be charging $199.99 for the Droid DNA on-contract, which is much cheaper than the $299.99 price tag of the Galaxy Note 2 and cheaper than the Nexus 4. Of course, keep in mind, the device will be locked to Verizon.
As for its off-contract price, the Droid DNA's off-contract price will likely be well over $500 when it goes on sale.